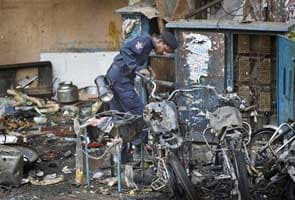 Hyderabad:
21 February, 2013:
Text message from a friend in Hyderabad on my cell phone at 7.15 pm: "Blast near Konark theatre."
At 7.17 pm, another message, from the same friend: "Dilsukhnagar area, not cylinder blast, this is something else". And then minutes later, news of the second blast.
The natural reaction would perhaps be, "Oh my God. How bad is it?" A reporter, however, is conditioned to start looking for more information. Especially those who have covered several blasts. I know after the second blast that there is every likelihood of it being a terror strike. I know casualty is likely to be high at rush hour in a crowded area like Dilsukhnagar. The mind is reeling with possible statistics.
22 February, 12.40 am, Osmania general hospital: A familiar sight of pain, panic and a lot of blood. The mortuary is not far from where I am and having reported on earlier blasts in Hyderabad, I know where it is. But, even had I not, I wouldn't need directions. The heart-rending wail of Muthyala Rajsekhar's mother leads us there. She is mourning the death of her only son. ''Naa Raju poyaadu, (My Raju is gone)" she sobs. 24-year-old Rajshekhar always wanted to be a cop in khaki and crack down on crime and violence. He was awaiting the results of a police exam that would make him a sub-inspector.
On Thursday, February 21, he was out for with friends when the blast occurred. Rajshekhar had a head injury and died before he could be taken to hospital in an auto-rickshaw.
There are more mourning mothers. And brothers and daughters. Whiplashed by grief and bewilderment. That's when it hits, as always.
Beyond the numbers and statistics are the heartbreaking stories. Like that of Rajitha's. She is an MBA student who is being treated in a private hospital in Hyderabad for a leg injury. So grievous was the injury that the leg had to be amputated and the 22-year-old cannot stop crying. One moment changed the young woman's life forever.
Kishore, an M Tech student was waiting at the Dilsukhnagar bus-stop to get back home. He was flung several metres away by the force of the explosion. He has injuries to his head and both his hands. His immediate worry is how he will write his examinations in two months' time.
Subalakshmi, Kishore's aunt is very angry. "The Prime Minister has promised the victims government jobs. Thank you very much, but could he promise us safety instead? What he should have said is 'it won't happen again. But he didn't say that. The Chief Minister does not know who did this to my son. Who is responsible for this? Who will tell us what the truth is? Giving a job is like saying your son will be taken care of. The truth is, our son does not deserve this. He would have taken care of us and himself well enough if this hadn't happened," she says.
Then there are the heroes. Mostly unsung.
Sudheesh Reddy, the older brother of Srinivas Reddy calls me up to ask if any hospitals need volunteers, blood, just anyway that he can help. Sudheesh is no celebrity, so he will need an introduction here.
On August 25 in 2007, Srinivas Reddy, a young engineering student was eating his favourite bhel puri at Gokul Chat. A bomb exploded very close and he sustained serious head injuries. Srinivas has now shrunk to half his size, is paralysed and is wheeled in a chair, and he does not even remember his own name. Older brother Sudheesh dreamt of seeing Srinivas as the CEO of a company. He carries with him all Srinivas' medical records and the hope that his brother will be cured one day. In the meantime, he says, he reaches out to other victims of such terror attacks, offering help or just solace.
Sudheesh says people like him have, besides grief, agony, trauma and anger, much skepticism in common - will they ever know just who was responsible?
Hyderabad's Mecca Masjid blast case of 2007 is unsolved - 17 people died and 100 were injured. The twin blasts in August the same year are unsolved too - 45 people died then and 80 were injured, among them Srinivas. There has been no breakthrough in many other cases of terror attacks across the country.
Sabita Indra Reddy, the home minister of Andhra Pradesh, has announced after last week's blasts that 3500 CCTV cameras will be fitted across Hyderabad to spruce up security. Ask the victims and they say, "Really?"
As I write this at a hospital, a young woman who was pregnant has just been informed that she has lost the child. Hers is one of the beds where many politicians from across parties make a customary stop and offer sympathy. Former chief minister Chandrababu Naidu is not famous for being sensitive. But his words ring the truest right now - "Where are we going?"