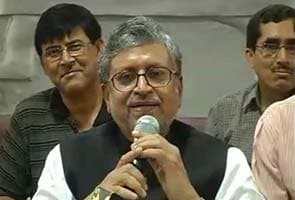 Patna:
The Bharatiya Janata Party (BJP) will declare its prime ministerial face for 2014 after assembly elections are over in November, the party's Bihar leader Sushil Modi has said.
The prime ministerial candidate for the BJP-led National Democratic Alliance (NDA) has been a matter of debate in the coalition. Many in the BJP, like Yashwant Sinha, say Narendra Modi is the best bet - a view others in the party and allies such as the Janata Dal (United) do not second. The Shiv Sena, a key NDA member, backs Sushma Swaraj for the post.
Sushil Modi, who is Bihar's Deputy Chief Minister, made the statement on Sunday, the day Chief Minister Nitish Kumar held a massive rally in Delhi and hinted that grant of special status to his state could decide the JD(U)'s political alignment in 2014.
In an apparent dig on the perceived closeness growing between the JD(U) and the Congress, Mr Modi said any party thinking of aligning with the Congress would sink in the Lok Sabha elections.
He described as "eyewash" the Manmohan Singh government's move to appoint a committee to redefine the parameters for giving special status to states.
The Centre's move, announced in the Union Budget, had been welcomed by Nitish Kumar.
Mr Modi also said the NDA would give Bihar special status if it came to power in 2014.