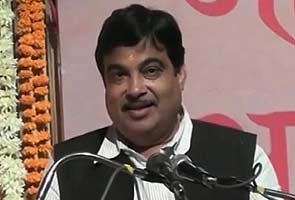 New Delhi:
The BJP, which is determined to take the UPA government head on in Parliament, is planning to build momentum by holding protest rallies a day before the Winter Session begins on November 22.
BJP Vice-President Mukhtar Abbas Naqvi said today that the 'halla bol' rallies on November 21 will target the government over FDI, corruption and price rise.
Top BJP leaders will be leading the rallies across the country. Arun Jaitley will be in Mumbai, Rajnath Singh and Murli Manohar Joshi in Delhi and Ravi Shankar Prasad in Jaipur.
But BJP chief Nitin Gadkari, who is accused of financial malpractices in his businesses, will surprisingly campaign far away in Itanagar, Arunachal Pradesh.
Denying any move to sideline the BJP president, Mr Naqvi said: "Nitin Gadkari had expressed his wish to hold a rally in Itanagar. The BJP has always felt a sense of responsibility towards the North-East. Rajnath Singh and Venkaiah Naidu too have held rallies there in the past."
Inside Parliament, the BJP plans to make corruption its main plank and, among other things, focus on the 2G spectrum scam.
Opposition parties have made it clear the UPA government will have much explaining to do on corruption and contentious decisions, such as FDI in multi-brand retail. The Left parties have submitted a notice for an adjournment motion on FDI, which if allowed will lead to a debate and a vote.
Defending Mr Gadkari, the BJP said he had given a detailed clarification on the alleged malpractices involving the Purti group of companies and welcomed a probe by any investigating agency.
The party announced that both Mr Gadkari and BJP veteran LK Advani would be campaigning for the Gujarat assembly polls. Mr Gadkari's Gujarat campaign plan comes amid reports of his rift with Gujarat Chief Minister Narendra Modi.
A blog by MG Vaidya of the Rashtriya Swayamsewak Sangh had suggested that Mr Modi was behind the demand by some party leaders for Mr Gadkari's ouster as BJP president.
(With PTI inputs)