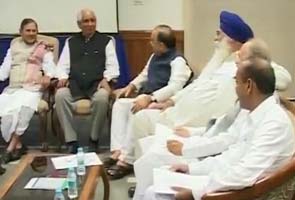 New Delhi:
The BJP has decided to put up a challenger against UPA's candidate Hamid Ansari for the vice presidential polls, scheduled to take place on August 7. The BJP top brass met this evening at BJP president Nitin Gadkari's residence to finalise its strategy for the elections. BJP leader Ananth Kumar said the party has called for a meeting of the NDA allies on July 16 to discuss the matter.
The BJP has not finalised any name yet. Sources say, name of former union minister Jaswant Singh is doing the rounds. According to sources, the BJP may field its own candidate if the NDA allies fails to reach a consensus on any name.
However, sources also say that the BJP may throw its weight behind Trinamool Congress Mamata Banerjee, who will decide her party's stand on vice presidential polls in the next two to three days. In the UPA meeting today, Trinamool representative Mukul Roy said suggested names of former West Bengal Governor Gopal Krishna Gandhi and former Lok Sabha MP Krishna Bose, who is also the niece of Netaji Subhash Chandra Bose. If Trinamool decides to field its own candidate, the BJP may offer support to increase its chances to put a decent fight against the UPA candidate.
The UPA has announced the current Vice-President Hamid Ansari as its candidate for the polls, scheduled to take place on August 7.
Before the UPA meeting this evening, the Prime Minister had phoned Leader of the Opposition Sushma Swaraj and senior BJP leader LK Advani to solicit their support for Mr Ansari. Sources say the BJP has declined because of how Mr Ansari handled the Lokpal Bill in the Rajya Sabha in December.
The BJP already has the support of one its key allies, Shiv Sena, which has come out and said they will support an NDA candidate if it decides to field a challenger.
Janata Dal (United) leader and Bihar chief minister Nitish Kumar had expressed his willingness to support Mr Ansari. But he also said, a final decision will be taken after the party leader Sharad Yadav attends the NDA meeting to discuss the vice presidential polls.
Despite the BJP's decision to field a candidate, the vice presidential election is not likely to be a close one. UPA candidate Mr Ansari needs only 396 votes to win the contest. Even without Ms Banerjee's Trinamool Congress, the UPA easily has 444 MPs voting for him, which is more than enough to ensure a second term for Mr Ansari.