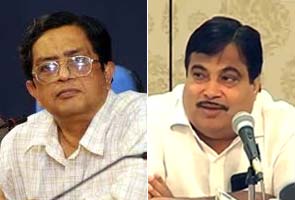 Bhubaneswar:
A day after the government defended the Chief Vigilance Commissioner (CVC) PJ Thomas in the Supreme Court calling him a person of impeccable integrity, the BJP has hit out at the Prime Minister over Thomas' appointment.
Addressing a press conference today, BJP spokesman Ravi Shankar Prasad said the government is trying to defend a tainted CVC. He also questioned the compulsion of the Prime Minister for defending the tainted CVC so aggressively.
"Dr Manmohan Singh, what is the compulsion that you are so aggressively defending the indefensible, namely the tainted CVC?" Ravi Shankar Prasad questioned.
"Sushma Swaraj had told the government that anybody but not Thomas should be made the CVC...Why are there strict rules of appointment for juniors but not for the CVC?" he added.
The BJP also took a dig at Sonia Gandhi. "Doesn't Sonia Gandhi's five-point anti-corruption plan cover the CVC?" said Prasad.
Earlier in the day, BJP president Nitin Gadkari described the affidavit submitted by the Centre in the Supreme Court defending the appointment of Thomas as "unfortunate."
Stating that the Leader of the Opposition, Sushma Swaraj had opposed Thomas' appointment, Gadkari said he wondered if Centre felt there was no need for consensus of the three-member committee on CVC's appointment, for what purpose the panel was formed.
"Since appointment of CVC was a sensitive matter, Swaraj's dissent should have been taken into account to ensure fair, independent and impartial functioning," Gadkari said accusing Congress of not following democratic norms.
Stating that BJP stuck to its demand for a JPC probe into 2G spectrum scam, he said steps should be taken to seize and auction assets amassed through corrupt means after they would be unearthed.
The Centre had strongly defended the appointment of the controversial bureaucrat Thomas saying he was an "outstanding officer" with "impeccable integrity".
In an affidavit in the Supreme Court cleared by Attorney General G E Vahanvati, Government also said there was no need for "consensus" of the three-member high powered committee on CVC's appointment.
While Prime Minister Manmohan Singh and Home Minister P Chidambaram had approved his appointment, Leader of the Opposition Sushma Swaraj, who was the third member of the panel, opposed the same on account of Thomas' "tainted" image.
The affidavit said no statutory norms were violated in the appointment of Thomas and his suitability for the post should not be decided by the apex court.
"It is well settled that a question of suitability should be left to the wisdom of the appointing authority. Suitability cannot be questioned by the court and the suitability should be left to the wisdom of the appointing authority," it said.