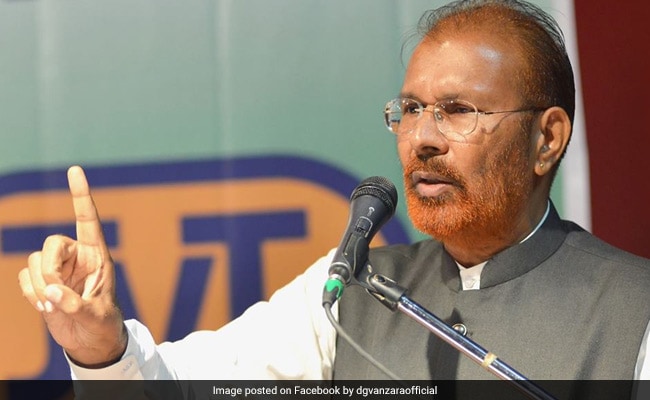 Highlights
DG Vanzara charged with shooting college student Ishrat Jehan
Cleared in other fake encounter cases while he was top cop
Keen on politics, "am talking to BJP", he claims
Ahmedabad:
DG Vanzara, who spent nine years in prison after being accused of extra-judicial killings as a top cop in Gujarat, says that he's negotiating to join the BJP ahead of December's election. "There were brief meetings, but so far, nothing has materialized as far as joining the party is concerned. There is no truth in reports that I have sought a ticket. For that, first I will have to join the party,'' Mr Vanzara, 62, told NDTV today in Gandhinagar.
Mr Vanzara was among the most senior police officers in Gujarat when BJP chief Amit Shah was Home Minister.
He was arrested in 2007 for shooting suspects in police custody. The CBI said that Mr Vanzara, as head of Gujarat's Anti-Terror Squad, had shot prisoners and then fabricated evidence to suggest that the victims were terrorists shot in self-defence by the police. Among those killed was 19-year-old college student Ishrat Jehan, who the police said, was part of a group planning to assassinate Narendra Modi, who was then Chief Minister of Gujarat.
Mr Vanzara retired in 2014 while he was in jail. Before that, he wrote a 10-page letter in which he alleged that the executions that he was charged with had been ordered by politicians including Mr Shah. "I used to adore Modi like a god," he said of the then Chief Minister.
In 2014, Mr Shah was cleared of ordering police to shoot gangster
Sohrabuddin Sheikh
, and kill his wife and a witness, Tulsi Prajapati. After their bodies were found in 2005, the Gujarat police claimed the trio were linked to Pakistan-based terror group Lashkar-e-Taiba.The state government later admitted in court that all three murders were staged. Mr Vanzara was cleared of all charges in the case in August this year.
The exoneration came after he got bail last year and his
return to Ahmedabad
from prison saw hundreds of people greeting him as a hero, showering flowers on him.
"It is difficult to save India from anti-national politicians," he said at the time. He also said that his squad's actions had prevented "jihadi terrorism" in a state that neighbours Pakistan. It is this sort of imaging of himself that could make Mr Vanzara a trophy for the BJP in its pitch for zealous nationalism.
Mr Vanzara himself has repeatedly invoked "nationalism" to defend his record and claims that he is "a victim of falsehoods spread by those linked to terror groups."
He belongs to Ilol village in North Gujarat, provoking talk that he could be allotted a constituency in the region. He belongs to the Banzara caste, a nomadic tribe, but is believed to be popular among some backward castes. "Besides, he has the tag of being someone who went after Islamic terrorists. Even if the encounters were fake, a message could go that those perceived to be nationalist cops have been rewarded by the party,'' said political commentator, Dinesh Shukl.
"The final list will be decided by the BJP's central parliamentary board. How can we speculate on ticket distribution when hes not even part of the party?'' said BJP spokesman Bharat Pandya.
Sources in the party, however, revealed that a section of its leadership believes he will be an asset in an election that has seen young caste leaders like Hardik Patel and Alpesh Thakore affiliate themselves with the Congress, but others believe that because the trial for Ishrat Jehan's murder has not yet concluded, it could be risky to name him as a candidate.
The opposition, however, insists that Mr Vanzara's induction to the BJP is likely. "The BJP has realized that its
vikas
(development) agenda is not working and hence, it's going for the polariation ploy. Who else better than an encounter accused to whip up communal emotions?'' alleged Congress spokesman Manish Doshi.