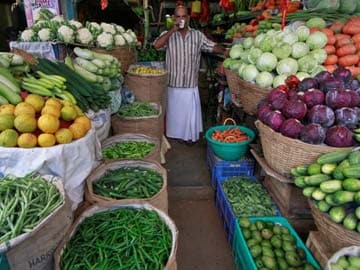 New Delhi:
Prime Minister Narendra Modi has made controlling inflation a priority since taking office last month, but prospects of weak monsoon rains and turmoil in Iraq have increased the risk of rising food and fuel prices. (
Narendra Modi Government Takes Steps To Control Inflation
)
With the Budget Session of Parliament beginning from July 7, the Centre has called for a meeting of all state food ministers on Friday (July 4) to discuss the crisis. (
Inflation at Five-Month High, Demonstrates Challenges for Modi Government
)
As part of its strategy, the government has asked all states to ensure proper supplies of essential commodities. The Union Food Secretary has also written to states to crackdown on hoarders. (
Modi Government Finding Excuses For Non-performance: Congress
)
The BJP-led government has also undertaken an elaborate public perception management exercise to tackle adverse publicity. The party has decided to use its MPs and state units to reach out to the people and convey the government's stand on rising prices.
Among the biggest challenges before the government is to explain the reasons behind rise of rail fare, petrol and diesel prices - the latest hike was announced today. As part of its strategy, the government is likely to blame the hikes on the decisions of the previous UPA regime. (
Rising Inflation Fallout of UPA Legacy: Rajnath Singh
)
The government had ordered a crackdown on hoarding on June 17 to control the rising food prices and imposed export restrictions on certain farm commodities.
The Congress has hit out at the government for its failure to curb inflation - one of Prime Minister Modi's key election planks. "Who stops them from taking action against hoarders and profiteers? I think they need to walk that talk and ensure that whatever they have promised the people of this country, they deliver on that," senior Congress leader Manish Tewari said.
India's wholesale price inflation hit a five-month high earlier this month; underscoring challenges facing the government, just weeks after it came to power. PM Modi has warned the public that "bitter medicine" was needed to put India's economy back on track, without giving details.