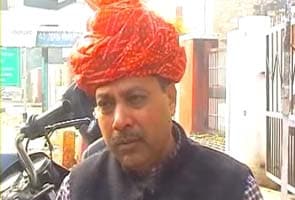 Alwar:
School girls and women agitators - livid over Alwar BJP MLA Banwari Lal Singhal's statement that girls should not wear skirts - held demonstrations outside his house and handed him a skirt in protest over the weekend.
The MLA had asked the state government to prohibit private schools from making girls wear skirts as uniform, citing it as the reason behind increased cases of sexual harassment.
"Why can't boys be asked to change their ways? Why are girls being told what to wear? Do you expect a six-year-old child to be draped in a sari?" asked one of the protestors.
Mr Singhal is a BJP legislator from Alwar city constituency, around 150 km from the state capital, Jaipur.
In his letter to the chief secretary, Mr Singhal demanded that girl students be made to wear salwar suits or shirts and trousers as uniform to reduce chances of their being subjected to lewd comments or harassment.
"Girls either walk to school or wait for school buses at various points in Alwar. That is when they face lewd comments from mischievous elements," Mr Singhal said, adding, "It should be prohibited keeping in view the rise of social crimes against women. The school should have pant-shirts or salwar suits as uniforms for girl students."
He said that the school uniform he proposed would protect students from extreme weather conditions as well.
(
With PTI inputs
)