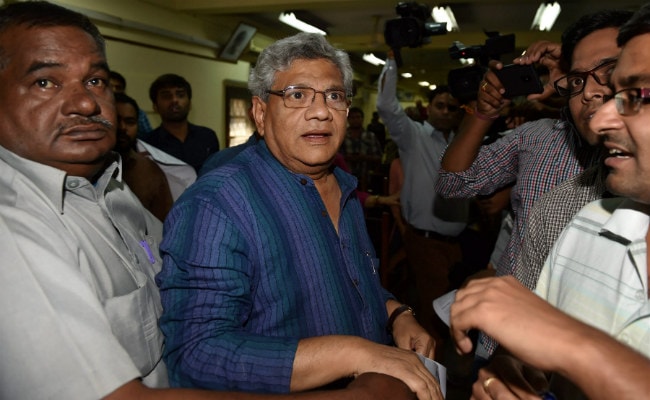 Thiruvananthapuram:
The BJP on Saturday filed a complaint against Communist Party of India-Marxist (CPI-M) General Secretary Sitaram Yechury in Thiruvananthapuram over his "baseless tweet" holding the Sangh Parivar forces responsible for the attack on him at a press conference in New Delhi.
Kerala BJP General Secretary VV Rajesh told IANS that he has filed a complaint against Mr Yechury with state Director General of Police TP Senkumar.
"I spoke to TP Senkumar (state police chief) and have filed a complaint against Yechury because it was after his tweet, which said he was attacked by the Sangh Parivar forces, did the violence escalate in Kerala," he said.
Mr Rajesh said this was a "baseless tweet", as the RSS has no connection with the Hindu Sena. Two youths belonging to the Hindu Sena were arrested for the attack on Mr Yechury at a press conference in New Delhi on Wednesday.
The Kerala BJP General Secretary in his complaint states that Mr Yechury is solely responsible for the political violence that has gripped the state.
"His tweet has been proven to be factually incorrect and politically provocative. This is a clear case of exhorting violence, abetting and aiding it. Hence, I request you, as the state DGP (Law and Order) to immediately direct registering of a criminal case against Sitaram Yechury for exhorting violence, abetting the attacks on the offices and cadre of Sangh Parivar," he said in his complaint.
The complaint was lodged a day after Kerala CPI-M Secretary Kodiyeri Balakrishnan said that attacks on the party by the BJP and RSS have increased dramatically after BJP President Amit Shah's visit to the state.
Since Wednesday, peace in Kerala has been affected with frequent clashes erupting in several parts of the state between party activists of the BJP and RSS and the CPI-M.
Kozhikode district, which witnessed the worst clashes, has for the past two days seen the BJP and CPI-M observing a shutdown, one after the other.
Expressing displeasure in the way Kerala is witnessing skirmishes, Leader of Opposition and Congress leader Ramesh Chennithala said the party that rules the Centre and the one that rules the state have spoilt the peace and tranquility which prevailed in the state, demanding that they must end this impasse.
Congress legislator and son of former Kerala Chief Minister K Karunakaran, K Muraleedharan, said not a single investor will now come to Kerala with this "volatile atmosphere".