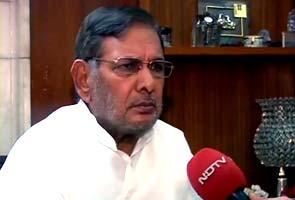 New Delhi:
The BJP has denied a rift with Bihar Chief Minister Nitish Kumar over who it will support in the election for the next President of India. Mr Kumar runs his government in partnership with the BJP and is a member of the BJP-led coalition, the National Democratic Alliance. The new President will be elected in July when Pratibha Patil's five-year term in Rashtrapati Bhawan expires.
He is reportedly upset with the BJP's announcement yesterday that current vice-president Hamid Ansari is not an acceptable candidate. Yesterday, Sushma Swaraj, a senior BJP leader, said that Mr Ansari does not have the stature to serve as President. Mr Kumar, who enjoys the confidence of the large Muslim population of Bihar, reportedly wanted to back Mr Ansari who belongs to the minority community.
"The opinion which Sushmaji has given is BJP's opinion, it's not our party's opinion. So far, there is no discussion on any name. We have discussed this issue with many people... if there was a discussion in NDA we would have given our opinion there but she (Sushma) has given her party's opinion... we are not involved in discussion at all," said JD(U) leader Sharad Yadav. Hours later, the BJP denied talk of a cold front between the party and the JD(U). "There is no rift whatsoever... It (rift) is mere speculation and interpretation which is uncalled for", said the BJP's Rajiv Pratap Rudy.
The Congress has begun discussing its potential candidates with its partners in the UPA coalition. It is keen on fielding either Mr Ansari or Finance Minister Pranab Mukherjee. A top source has told NDTV that the Left is willing to support the Finance Minister's candidature. Left sources say they will "think about" whether to support Mr Ansari.
The BJP has said that it will not support any candidate selected by the Congress because it sees the presidential election as a chance to test the Congress' strength ahead of the next general election in 2014. The BJP said it will consider supporting former president APJ Abdul Kalam if he receives the endorsement of the Samajwadi Party. The presidential election is based on proportional representation and gives equal weight to MPs and members of state legislative assemblies. (
Poll: Who will be India's next President
)
The Samajwadi Party, headed by Mulayam Singh Yadav, won the UP elections recently with a huge majority, giving it a large say in deciding who becomes the next President of India. The UPA has over 40 per cent of the total votes in the electoral college while the NDA has less than 30 per cent. Neither coalition can elect a presidential candidate on its own strength.
Kamal Farooqui of the Samajwadi Party said today that while Mr Kalam remains a good choice, his party is also considering support for Chief Election Commissioner SY Quraishi. "My party is discussing name. We will come out with a name very soon... the non-NDA parties are in support of a Muslim candidate, and as BJP is for APJ Abdul Kalam, they may also support if a good Muslim candidate is pitched," said Mr Farooqui in a television interview.