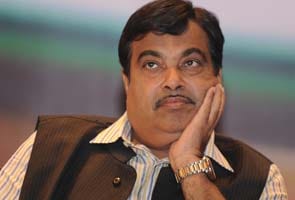 New Delhi:
Despite a very public and high-decibel revolt, the BJP not only continued to back its president, Nitin Gadkari today, but, after a two-hour-long meeting of top leaders at the party headquarters in Delhi, exonerated him from charges of corruption or financial misdemeanour, saying in a statement, "There is no legal or moral wrongdoing on Nitin Gadkari's part."
In the joint statement issued by senior leaders Sushma Swaraj and Arun Jaitley, the BJP prefaced its clean chit by saying, "Mr Gadkari is ready to face any inquiry, the party has full faith in him." The meeting, said party spokesman Ravi Shankar Prasad, was called by S Gurumurthy of the RSS, who had gone through Mr Gadkari's business documents and based on that study, made a presentation to the BJP leaders.
Mr Gurumurthy, also a leading chartered accountant, was deputed by the RSS, the BJP's ideological mentor, to persuade the party to let Mr Gadkari finish his term as president. The BJP said it accepted Mr Gurumurthy's presentation that Mr Gadkari, "has no direct or indirect interest in the 18 investment companies that have invested in Purti Group."
Conspicuous by his absence at the meeting, was LK Advani. Though Mr Gadkari's term as president expires in six weeks, sources say Mr Advani wants him removed from office now, and is keen on filling the vacancy himself. Officially the party explained that he did not attend as Mr Gurumurthy had already made the presentation to him earlier in the day.
Mr Gadkari too did not attend the meeting; Mr Prasad said he stayed away to facilitate an open discussion about the corruption charges he faces.
The BJP leaders, in their statement, have also appealed to party leaders and workers to not air views that can hurt the image of the party. Mahesh Jethmalani, who precipitated the Gadkari crisis yesterday by sending the party president a two-line letter resigning from the BJP's national executive and then followed it up with a very vocal attack on him, refused comment today saying, "I am still a member of the BJP. I am gagged."
Mr Advani's absence at the meeting tonight offered strong comment on a party coming unglued in a major and public crisis; the day had begun Rajya Sabha MP Ram Jethmalani demanding that the party should not sacrifice its credibility by standing by its president while he is being investigated by the government for financial malpractices in the Purti Group of companies that he co-founded in 2002. Mr Jethmalani said he spoke for sveral other prominent leadrs like Jaswant Singh, Yashwant sinha and Shatrughan Sinha.
Then began a flurry of meetings aimed at damage control; Mr Gurumurthy met with a series of BJP leaders including Ram Jethmalani. The revolt had been curtailed by the evening, but in the surge of dissent lie the attempts of other A-listers from his party to position themselves as Mr Gadkari's replacement, and to recalibrate power within the BJP by reallocating important posts.
The camps who are backing or fighting Mr Gadkari are motivated by calculations of who will replace him. Chief Minister Narendra Modi is poised to comfortably deliver Gujarat to the BJP in December, a victory that will make it tough for the party to wriggle out of giving him the prize he covets - being its candidate for prime minister. Sources say Mr Modi would like to see Arun Jaitley as party president. Mr Jaitley, who is Leader of the Opposition in the Rajya Sabha, has not defended Mr Gadkari in the current scandal.
Those who are throwing their weight behind Mr Gadkari believe that will check Mr Modi's ascension to the national stage - a promotion that would atrophy their own ambitions for a starring role.
Ram Jethmalani, who led the president's detractors today, is known for his proximity to Mr Modi. In a letter to Mr Advani on November 2 that was made public today, Mr Jethmalani said he, along with the two Sinhas, Yashwant and Shatrughan, and Jaswant Singh were considering "bidding goodbye" to the party over its defence of Mr Gadkari. But after conferring with Mr Gurumurthy, Mr Jethmalani said that he had been convinced that the RSS had asked Mr Gadkari for a detailed response to the charges against him and is satisfied with his explanation.
The RSS has called for "an impartial probe" to verify the charges against Mr Gadkari but also warned over the weekend that "the president will not be removed as the result of any sort of conspiracy."