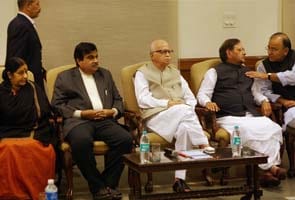 New Delhi:
The stage is now set for what promises to be a heated Winter Session of Parliament. The BJP and its allies want a discussion on Foreign Direct Investment or FDI in multi-brand retail under a rule that allows voting. They also might bring their own no-confidence motion against the Manmohan Singh government. The government has made it clear it does not want a vote, though it says it has the numbers should it come down to one.
A statement of the BJP-led Opposition grouping - the National Democratic Alliance (NDA) - after a 90-minute meeting on Tuesday evening said, "(The) NDA will move a resolution under voting provisions seeking disapproval of the government's decision (to permit FDI in multi-brand retail) and urging the government to withdraw the decision."
"This government has failed on all the fronts and the time has come for it go. The NDA would consult all political parties to explore the possibility of a no-confidence motion against the government," the statement read out by BJP spokesperson Ravi Shankar Prasad said.
The meeting had been called to decide on the NDA strategy for the Winter Session of Parliament that begins on Thursday.
Though it wasn't clear whether the no-trust motion that the NDA is "exploring" would precede the demand for a possible discussion-and-vote call, it seems that the BJP-led alliance wants to show that it remains the main Opposition party and is not willing to cede that space to the much smaller Trinamool Congress, which with its 19 Lok Sabha MPs has declared that it wants to bring a no-confidence motion against the government and is now scrambling to get support before the session begins. A no-confidence motion must have the support of at least 50 Lok Sabha MPs before it can be moved in Parliament.
The government has already indicated that it might be unwilling to even accept a discussion-and-vote motion under Rule 184 of Parliament, which the Left parties will also apply for, on the issue of FDI in retail. It argues that FDI in retail is a policy matter, and an executive decision that does not need Parliament's nod. Parliamentary Affairs Minister Kamal Nath told NDTV, "We will tell the Speaker we don't want discussion on FDI that entails voting. What is the vote for? We are not thrusting FDI in retail down anyone's throat." States have been given the option of not accepting the Centre's decision on this. Mr Nath also said that Ms Banerjee and her Trinamool Congress didn't have the numbers behind them to bring a no-trust motion. (
Watch: If there is a vote on FDI, we will win, says Kamal Nath
)
Ms Banerjee seems clear the obvious lack of numbers will not deter her just yet. She said that she would be happy to support a no-confidence motion brought by any other party; she said she had spoken to the Communist Party of India's Gurudas Dasgupta, asking him to get the bigger Left party, the CPI(M), to bring a no trust motion. Mr Dasgupta only told her that it was for the party to decide. The CPI(M) had earlier categorically said that it will not back Ms Banerjee, since a failed no-trust motion would embolden the government even further to take decisions that the Left considers harmful to the country. (
Read: Isolated Mamata looks to the Left for face-saver
)
Even those parties which have been openly opposed to FDI in retail, including the Samajwadi Party (SP) which supports the government from outside, have been extremely cagey about a no-confidence motion. SP leader Ram Gopal Yadav said that his party remained opposed to FDI in retail but didn't think there would be voting on it in Parliament. He was also sceptical about the Trinamool's no-trust vote move. "Does Trinamool have the numbers?" he asked.
The other party to leave the door open a crack for the Trinamool Congress was AIADMK chief and Tamil Nadu Chief Minister J Jayalalithaa, who said on Tuesday that while her party will decide on a no-confidence vote if it was brought, "no one had asked for the AIADMK's support for a no-trust vote". She said that her nine MPs will vote against FDI in retail; but that number will still not be enough for Ms Banerjee's no-confidence motion, unless the BJP seriously decides to take it up.
(with PTI inputs)