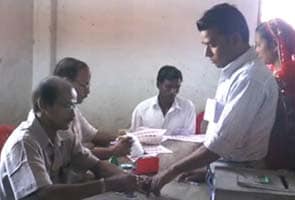 Kolkata:
Signs of a Left turnaround or a consolidation of the ruling Trinamool Congress's hold - it is a big test for West Bengal Chief Minister Mamata Banerjee's party as counting of votes cast in five-phase Panchayat Polls takes place across the state today.
The manual counting of ballots for village councils - the third tier of India's electoral system - began amid heavy security due to fear of political clashes after 25 people were killed during polling. The fate of 1.69 lakh candidates, including 90,000 women, is on the line.
The verdict, which is expected by Tuesday, is significant as it was the previous Panchayat polls of 2008 that had, for the first time, indicated that the Left front government was in trouble.
Many seats are witnessing triangular fights between the Trinamool, the Communist Party of India-Marxist-led Left Front (LF) and the Congress. Both the Left and the Congress had accused the Trinamool of using coercion and intimidation to win the elections "unethically".
Opposition parties allege that their candidates were not even allowed to contest in over 6,000 seats, which the Trinamool would win uncontested.
Mamata Banerjee denied these allegations, claiming that the elections were free and fair and the violence was staged by rival parties.
The polls were held in the backdrop of court battles between two constitutional bodies -- the West Bengal government and the State Election Commission, violence and complaints of terror, rigging and intimidation mostly against the Trinamool.