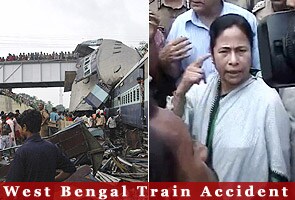 Kolkata:
Railway Minister Mamata Banerjee on Monday visited site of the accident involving Sealdah-bound Uttar Banga Express and Vananchal Express at Sainthia station in Birbhum district.
Speaking to reporters at the site, the minister announced a compensation of Rs 5 lakh for the families of each of those who died. She also promised employment for one member each from families of the victims.
"Rescue operation is 99 per cent over. A little more work is left. The crowd here is a hindrance to the remaining rescue effort ," she said, adding, "We thank the locals who helped in rescue efforts."
The Railway Minister also said that an investigation will be carried out in to the incident. "No one has an explanation as to why this happened," she said.
An inquiry headed by the Commissioner, Railway Safety has been ordered into the incident, the PRO of the Railways Ministry had earlier said.
Speaking before leaving for Sainthia, Mamata had said she was "suspicious" about the cause of the accident.
"I am suspicious about the cause of the accident," Banerjee told reporters here when asked about the circumstances that led to the mishap.
"We have some doubt in our mind. Whatever happened is not casual thing. We will take strong steps against those who are behind this," she said before proceeding for the
accident site.
She, however, did not elaborate. The seriously injured would receive Rs 1 lakh and those with minor injuries Rs 25,000, she added.
Meanwhile, both Ram Vilas Paswan and Lalu Prasad Yadav attacked the Trinamool Congress chief for the accident. "Mamata Banerjee should either look after the Railways or Bengal politics," said LJP chief Ram Vilas Paswan. "This accident has happened due to carelessness," added RJD President Lalu Yadav.
The incident comes within two months of the Gyaneshwari train disaster near Jhargram that left 148 dead. The Railway Minister had alleged a 'political conspiracy' behind it.