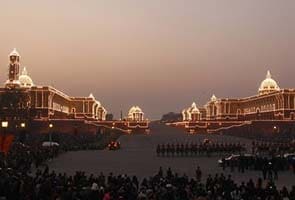 New Delhi:
Lilting martial tunes and massed pipes and drum bands reverberated the air while the majestic Raisina Hills was lit up as part of the Beating the Retreat ceremony in New Delhi on Sunday, marking the end of Republic Day celebrations.
Rendition of
Vande Mataram
in a fusion of western and Indian classical style titled 'Renaissance' was the highlight of the ceremony while tabla and shehnai made their maiden entry into the function held at the historic Vijay Chowk.
The ceremony saw 35 bands from three armed services in their colourful ensembles playing tunes like
Saare Jahan se Achha
penned by Iqbal and 'Abide with Me', the eternally enchanting hymn which was a favourite tune of Mahatma Gandhi.
Indian tunes were the flavour of the ceremony this year as 14 of the 27 performances have been composed by Indian musicians while just seven popular tunes by foreigners were retained, interspersed five times with 'Fanfare', a collage by buglers, and 'Drummers Call', a traditional performance by drummers.
President Pratibha Patil, Vice President Hamid Ansari and Prime Minister Manmohan Singh attended the ceremony that saw military bands, pipes and drums bands and bands of Navy and Air Force enchanting the audience.
UPA chairperson Sonia Gandhi, senior BJP leader L K Advani, Defence Minister A K Antony, HRD Minister Kapil Sibal, Minister of State for Defence M Pallam Raju and Planning Commission Deputy Chairperson Montek Singh Ahluwalia were among those present on the occasion.
President Patil, the chief guest of the function and supreme commander of the armed forces, came from Rashtrapati Bhawan preceded by mounted president's bodyguards at Vijay Chowk, where her arrival was sounded by 14 trumpeters, 32 buglers and 14 echo buglers followed by playing of national anthem and a tune
Parameshwar
, composed by Captain Mahendra Das NK.