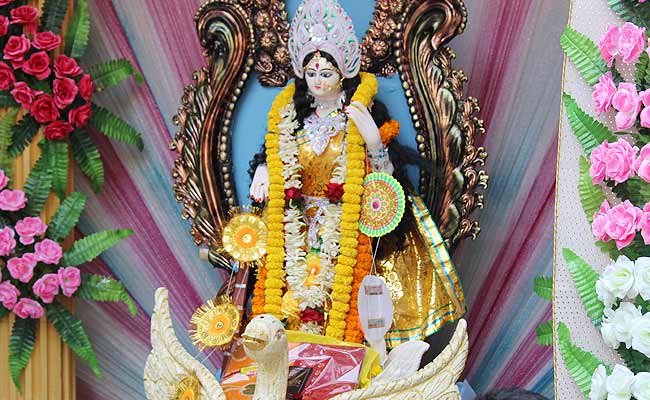 New Delhi:
Basant Panchami
is celebrated by Hindus in India, Nepal and other countries with much enthusiasm and vigour.
Basant Panchami
, or as some say
Vasant Panchami
, marks the beginning of the spring season -
Basant
means spring and
Panchami
means "the fifth day". On this day, Hindus visit temples and pray to Goddess Saraswati, who is the goddess of knowledge, and celebrate the day as Saraswati Puja.
Basant Panchami
is the first of the two spring festivals of Hindus - the other being Holi. The festival is celebrated every year on the fifth day of "
Phalgun
" (the eleventh month of the Hindu calendar).
In India, the festival is celebrated across the country in different ways.
In West Bengal, people worship goddess Saraswati, the goddess of knowledge, education, music and art. The festival signifies that knowledge is supreme, and prevails over ignorance. Girls and women drape themselves in yellow traditional attires while men and boys wear clothes mostly in yellow.
Although there is no special time to perform Saraswati Puja, texts suggest that the goddess should be worshipped when
Panchami Tithi
is prevailing. According to experts, Saraswati Puja should be performed during
Purvahna Kala
- the time between the sunrise and the midday.
This festival is also celebrated in educational institutes - schools and colleges - where students and teachers, wearing new clothes, pray to the goddess of knowledge and organize various programmes of song and dance.
In Punjab, devotees celebrate by flying kites on their rooftops while in Rajasthan, people wear jasmine garlands on the day of the festival.
This day also marks the occasion when Parvati approached Kama to awaken Shiva who is in yogic meditation since
Maha Shivratri
. With all other gods and goddesses supporting Parvati, Kama agrees to bring Shiva back to do his worldly duties. He shoots arrows made of flowers and bees at Shiva to arouse him and draw his attention to Parvati.
In Kutch, this day is kindred with the emotions of love and emotional anticipation. Devotees prepare bouquet and garlands of flowers set with mango leaves as gifts. People dress in saffron, pink or yellow and visit each other. Songs are sung in praise of the Hindu deity Kamadeva and his wife Rati.
In Maharashtra, Madhya Pradesh, Chhattisgarh and Uttar Pradesh, people worship Shiva and Parvati and offer mango flowers and wheat.
In Bihar's Aurangabad district, the Deo-Sun shrine was established on Basant Panchami by the King Aila of Allahabad. This event is celebrated on this day as the birthday of the Sun-Deo God. The statues are washed and their old clothes are replaced with new ones on
Basant Panchami
. In ancient times, the festival was celebrated in the royal palace of Kamadeva.
Basant Panchami
2018 will be celebrated on 22nd January.