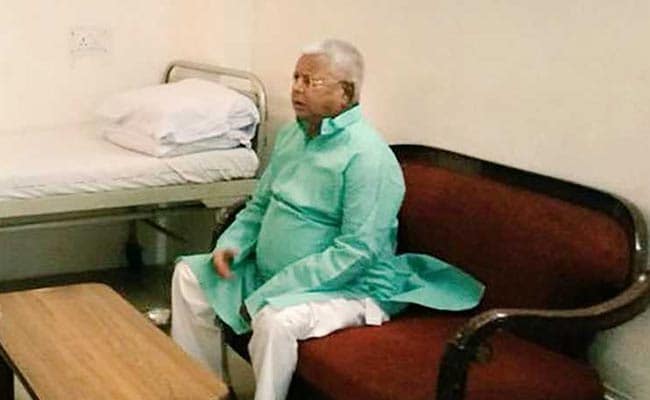 New Delhi:
Lalu Yadav, jailed for corruption in Jharkhand, has asked to be shifted out of his current ward at the prison hospital. In a letter to the hospital, the 70-year-old has complained about mosquitoes and barking dogs keeping him awake. In response, the hospital has asked civic bodies to remove stray dogs near the politician's ward.

Lalu Yadav, the chief of the Rashtriya Janata Dal (RJD), was ordered back in jail on August 31 by a court that refused to extend his parole. He had been out on health grounds since May. The day he surrendered, he was moved to the Rajendra Institute of Medical Sciences (RIMS).

"Lalu Yadav has requested to change his ward because of disturbance caused due to the barking of dogs. His request has been sent to jail authorities. We have written to municipal corporation. to remove dogs from the vicinity," said the hospital director, RK Shrivastava. It is not clear if the hospital will do much more than that.

The three-time chief minister of Bihar wanted to be moved to a 100-bed paying ward, which at present has only three patients, according to RJD lawmaker Bhola Yadav.

The paying ward is new and tidy and Lalu Yadav is willing to pay rent, Mr Yadav told the Press Trust of India.

"The waste pipe of a toilet close to his ward is clogged, emitting foul smell. This imperils the health of our leader who suffers from infections," said Mr Yadav, a close confidant of the RJD chief, who has been with him since he started his jail term in December.

"Besides, there is also the problem of excessive noises. The post-mortem house is nearby which attracts a large number of stray dogs. Their barks and howls is a nuisance and cause immense discomfort to the septuagenarian," the RJD lawmaker said.

Lalu Yadav, a diabetic, was also unable to go for his regular walks because the cardiology department ward where he has been admitted is "not suitable" for that.

The RJD chief's appeal for a better ward drew snide remarks from the ruling Janata Dal United of Nitish Kumar.

"Now you have begun to fear dogs and mosquitoes. The people of Bihar had feared a lot while you were in power," said JDU spokesman Neeraj Kumar tweeted.