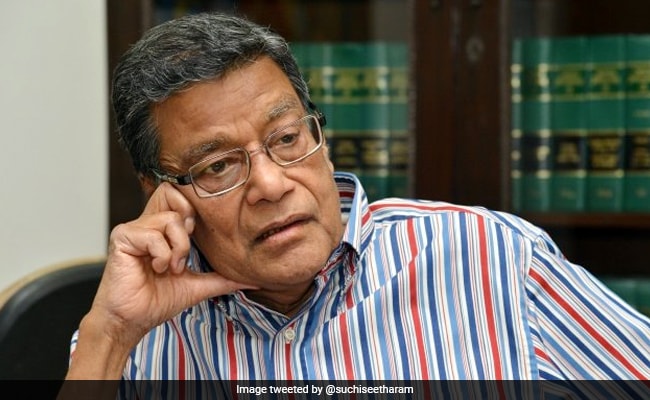 New Delhi:
Attorney General KK Venugopal on Monday favoured increasing the retirement age of judges of the Supreme Court and high courts from 65 and 62 years respectively.
He also said that the salaries offered to judges are far below than an average lawyer would earn, and they should be raised by 2-3 times.
Speaking at the farewell programme of outgoing Chief Justice of India Dipak Misra, the law officer said that so far as judges are concerned, whether retired, they should not be allowed "to vegetate" and it is not easy to get good judges.
"Hope that we will have Chief Justice Dipak Misra with us for the long future to come. I remember making the same statement a little while back when some other judge retired and I don't know whether it has come true or not," he added.
Mr Venugopal also disagreed with the view that post- retirement, judges should not take up the job at tribunals or arbitration, saying that "you cannot allow all the talent to be wasted".
Praising Justice Misra for delivering "record" judgements in last few months and also for the topics he dealt with, the attorney general said: "Time after time he (CJI) had to deal with gender justice and again and again he has decided in favour of women and therefore so far as he is concerned he has been labelled by the newspapers as the 'gender warrior'."
Mr Venugopal said that recently he asked someone about the number of pages of the judgements that the CJI has delivered in the last few months and he was told that it was not possible as there were too many to count.
On issue of increasing retirement age of judges of the apex court and the high court, he said years of experience of judging, going through the facts, law and then deciding the case justly and fairly and with jurisprudential certainity, should not be thrown away.
"Today, we must remember that the average longevity in India is about 73 years of age. Are you going to allow judges to retire from the high courts at 62 and from the Supreme Court at 65 and then say bye bye. It is a matter of principle that you shall not accept any government offer to man the various judicial force," he said.
"Suppose the judges of this big experience and excellence are not allowed to accept these posts, then how will these tribunals function and how will the decisions be of the quality which is required and would not many of them have to be reversed by the high courts and the Supreme Court," he added.
Mr Venugopal said he felt that retired judges should not be allowed to decide only arbitrations and it is not that all of them will be busy day after day dealing with arbitration.
"Secondly, the age of retirement, I have repeated this earlier, of 62 and 65 is very little. You will find that the advocates running around the corridors of the Supreme Court for far the age exceeding 62 and 65 and so on."
"Now if they can do that, do you think that the judges who sit there and decide and use their brains and intelligence will be unable to do so or that their brains are clogged and there is no clarity in thinking. It can't be so and therefore it is time that one thought of increasing the age of retirement. Now believe me it is not easy to get good judges," he said.
The question arises why should they give up their legal practice and take to the bench where after retirement, if they are from a particular area/state they would not be able to practice again in that state, he said.
Mr Venugopal said there has to be a change in the mind set and for that the age of retirement should be increased. So far as their salaries are concerned they have to be doubled, tripled, if you want good judges, he said.
He said he was told by the law ministry that they were not getting enough proposals for judges for filling up all the vacancies.
"If complaints are examined, there are allegations that the government is delaying and so on. I would not like to comment on that as there are several factors involved."
"But, so far as the justice delivery system is concerned it has to improve. I am glad to know that CJI-designate, Justice Ranjan Gogoi, has said at a seminar recently that he would be able to tackle the situation of pendency... What is justice if we have to wait for ten years in trial court, ten years in high court and ten years in Supreme court, 30 years, will that man be alive," he said, while voicing his concern.
Mr Venugopal suggested that both the government and judges should do a brainstorming session at least for five to six days so that they can chalk out what the future justice delivery system should be like.
"Because we are not able to find a solution, I am afraid that so far as access to justice which is a fundamental right and Article 21 of the Constitution, will become a mere mirage ..," he said.