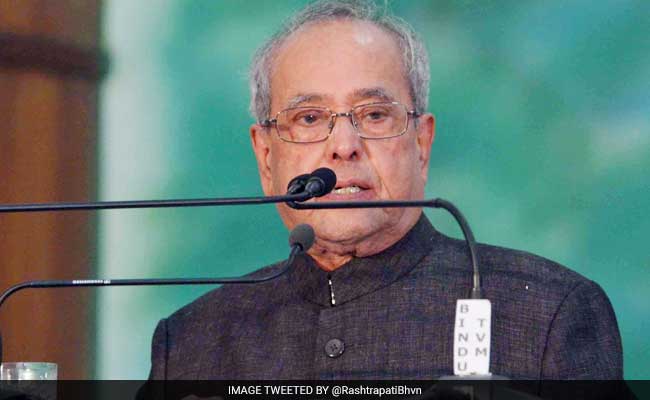 GUWAHATI:
The mighty Brahmaputra got a festival to celebrate the rich history and culture that grew along the river bank, with President Pranab Mukherjee on Friday launching a festival, Namami Brahmaputra, in Guwahati on Friday.
The festival to celebrate the only male river in the country according to Hindu mythology, a pet project of Chief Minister Sarbananda Sonowal, is being simultaneously organised in 21 districts in the state for five days.
"Southeast Asian country is emerging as business hub for India and northeast is crucial to it. And Brahmaputra can play a major role. This festival should promote the history, culture, traditions and tales of people along the river," said President Pranab Mukherjee in his inaugural speech.
Mr Mukherjee also frowned at recent instances of intolerance, saying there should be diversity of opinion.
"In India 200 languages used and all major seven religions are practised... Despite such ethnic diversity, we are a one-nation state. Indians are argumentative, I will agree. If you say India is intolerant, I would not agree," the President said, stressing how Indian traditions including the teachings of Assam's great scholar and social reformer Shankaradev "never allowed the practice of intolerance".
Bhutan Prime Minister Tshering Tobgay who attended the inaugural event as the guest of honour claimed that Brahmaputra is a pride of South East Asia and there should be cross country event to promote the mighty river.
"We wish that Namami Brahmaputra not only becomes India's biggest river festival but also turns into the most powerful river festival of India," Mr Tobgay added.
All the rivers of Bhutan flow into the Brahmaputra.
"We would wish if Centre and State government comes forward to give the same importance to Brahmaputra as given to the Ganga. This river means life to communities in Assam and needs more attention" said Janardhan Deb Goswami, a prominent Vaishnavite Satradhikars in Assam.