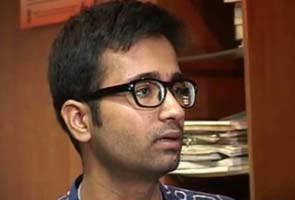 New Delhi:
Two days after his mother's death, Ankit Sharma, 22 years old, describes the immense tragedy of losing his sister and his mother, who both hanged themselves in the same room in the family's apartment in north-west Delhi.
Both Geetika and Ankit's mother, Anuradha Sharma, named in their suicide notes former Haryana minister Gopal Kanda, who is now in jail. This is Ankit's account as told to NDTV's Sonal Mehrotra:
Friday morning was like any other day in our house. My father dropped my mother to her office and I took the metro to my workshop in Hauz Khas village. Through the day I spoke to my mother several times. She said she would meet me at 4 pm at my office in Hauz Khaz. But she never came.
At 5.15 pm, my aunt called me and told me my mother had hung herself.
I know now that my mother's last conversation was with her mother (my grandmother). My mother howled and said she was scared about me and that somebody would take me away and she would lose her second child as well.
My mother was extremely strong. She had not shown any signs of depression. She had read the chargesheet against Kanda and had marked pages that she thought were important. The lawyers also described her as a very resilient person. She wanted justice for Geetu.
After Geetu killed herself in August, my mother always said it was communication gap that took away Geetu from us. My mother would say Geetu hadn't been able to open up to her feelings to us. She used to tell me, "We have lost her, let us try and interact more as a family, whatever happens tell me, don't bottle up your feelings, together we can find a solution."
The kind of questions that were raised about Geetu and us by several channels broke our confidence. But my mother told me not to worry. She said it is very easy to question the character of a girl, difficult to take on a powerful politician.
The fear of Kanda is such that even our relatives don't want to be seen with us. And it is because of him that I am slowly losing all the members of my family.
It destroyed our confidence to see Kanda all smiles in court. My mother yelled and shouted in the courtroom, but nothing happened.
It was difficult to get lawyers, no one wanted to support us because we were taking on a powerful man.
I remember my shopping trips with Geetu. She trusted my choice and said I would become a big fashion designer. In this very room, we watched Hollywood red carpets and she would tell me to design those dresses. She was a big fan of 'Sex And The City.'
We planned her wedding, how it would be a destination wedding, but all these things will be in another life now.
My mother used to say I was the girl and Geetu was her son. After Geetu, mamma made it a point to come with me everywhere. I just don't understand what happened that in my support system, the strongest person in the family had to commit suicide.
This house haunts me now. I can still see my mother and sister around. I am still in shock. I can't believe all this is happening to us, all because of Kanda.
My dad is very shy, he hardly speaks. He has lost his daughter and wife in a span of six months. He is in shock.

Disclaimer: The opinions expressed within this blog are the personal opinions of the author. NDTV is not responsible for the accuracy, completeness, suitability, or validity of any information on this blog. All information is provided on an as-is basis. The information, facts or opinions appearing on the blog do not reflect the views of NDTV and NDTV does not assume any responsibility or liability for the same.