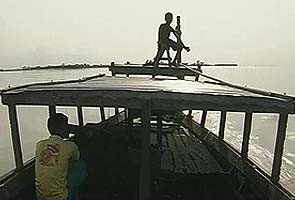 Barpeta:
The flood fury in Assam may have receded, but the devastation and misery is still unfolding. There are 30 lakh people still affected by the last wave of flood in Assam this year. On visiting the Barpeta district in Lower Assam, NDTV found children out of school, sent to work to feed themselves, because many homes have lost their livelihood. Nearly 20 lakh children are estimated to have been affected by the floods in Assam this year.
The island of Char in the middle of Brahmaputra has been ravaged, homes destroyed and crops washed away. A 10-year-old boy in this village works as a helper on a boat in exchange of three meals a day, as his mother can't feed him and his two elder siblings any longer. The other two children have been sent to live with relatives.
Men here are seen weaving fishnets in classrooms where children are supposed to study. The school here was established in 1925. Being a very old settlement, it is now threatened by the river. Children are the worst hit here, with flood hardship forcing many of them out of school.
Mother of five daughters, a woman here works as a cook for mid-day meals earning Rs 1000. She too had to send her daughters away to different places for work or to relatives.
"The children have been affected very badly. They've been sent to different places to work," she said.
Besides the government, relief NGOs like Save The Children have stepped in to help this village in creating children friendly space.
"For children we will create space so that even outside school they can play and remain engaged," said Sattar Choudhury from Save The Children NGO.
Post-disaster is a favourite hunting ground for human trafficking and with Assam as the hub for trafficker, children need special attention. But for now, the 10-year-old is back to driving a boat.