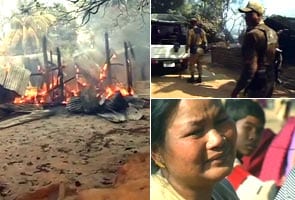 Guwahati:
After two days of relative calm at the Assam-Meghalaya border fresh firing was reported between two groups on Sunday morning.
More violence erupted on late Saturday night as three houses were set on fire.
The two communities - Garos and Rabhas - have been clashing along ethnic lines in Assam's Goalpara District and bordering Meghalaya since the beginning of the last week of December 2010.
More than thirty thousand people have been displaced and 340 houses are said to be gutted. At least seven people have lost their lives in these clashes.
Reacting much later, the government asked paramilitary forces to move in the abandoned villages and sensitive areas in and around ethnic violence hit East Garo Hills district.
Meghalaya Home Minister HDR Lyndoh, who chaired a high-level security meeting, said paramilitary forces sent by the Centre had also been deployed in relief camps in the district along the Meghalaya-Assam border where the affected people have taken shelter.
"The additional companies of paramilitary forces are expected to remain deployed for a few months," he said.
"Supply of essential commodities have been affected due to the curfew and blockade called by All Rabha Students Union.
But now the supply lines have been more or less normalised and communication restored," Lyndoh said.