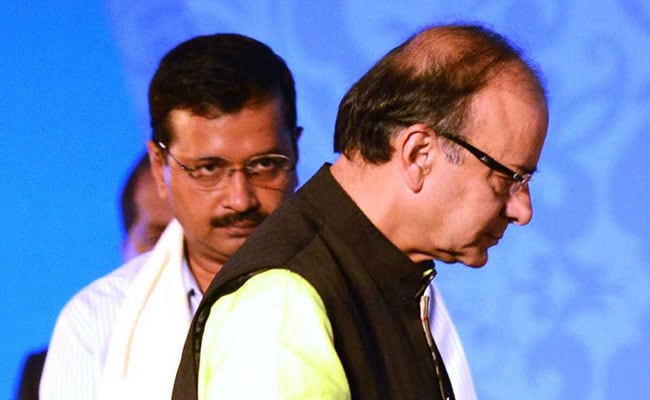 Highlights
Arvind Kejriwal, AAP hope to end legal mess by sending out apologies
Jaitley, who has filed defamation case, approached too, say sources
But Jaitley wants apology from all AAP leaders, says source close to him
New Delhi:
The most significant entry in Arvind Kejriwal's "sorry" list poses the biggest challenge and indications are that an apology from just the Delhi Chief Minister may not help. Mr Kejriwal -- who has been
on an apology spree
to disentangle himself from a web of defamation suits -- has already tried to contact Arun Jaitley, said sources close to the Union finance minister. Mr Jaitley has filed two cases against Mr Kejriwal and sought compensation of Rs 20 crore.
Sources said an apology from Mr Kejriwal will not cover the case, since other leaders of Aam Aadmi Party have also made defamatory allegations against the union minister. Besides Mr Kejriwal, the Rs 10 crore defamation suit filed by Mr Jaitley names Sanjay Singh, Ashutosh, Kumar Vishwas, Deepak Bajpai and Raghav Chadha.
"If all of them apologise, then it is a different matter," said a source close to Mr Jaitley.
AAP leaders earlier told NDTV that apology will be the template of how the party would deal with defamation cases against the Chief Minister and other senior party leaders.
Mr Jaitley sued Mr Kejriwal and the five top AAP leaders in December 2015 and sought Rs 10 crore as damages after they accused him of corruption during his 13-year tenure as the boss of the DDCA, the powerful cricket association that handles Delhi and its surrounding areas.
A second defamation suit followed in July last year, after Mr Kejriwal's lawyer Ram Jethmalani used a slur while cross-examining the finance minister. When the senior advocate said the term had been authorised by his client, Mr Jaitley filed another case and sought another 10 crore as damages.
While these two cases have been under spotlight, the Delhi chief minister has been named in more than 30 defamation suits. As the legal mess grew, Mr Kejriwal decided to
"amicably sort" out the pending cases
since they were "taking a toll on the already strained resources of the party and individuals," AAP said.
He has already issued three of the 33 pending apologies - to Punjab politician Bikram Majithia, Union Minister Nitin Gadkari and Congress leader Kapil Sibal's son Amit Sibal -
upsetting many of his party leaders
on ideological grounds. A
crisis was averted in Punjab
where a senior leader resigned in protest.
"Arvind Kejriwal will certainly have less legal problems when he is done apologising but at what political cost? What will his audience think the next time he levels an allegation against someone?" tweeted Omar Abdullah, the former Chief Minister of Jammu and Kashmir.