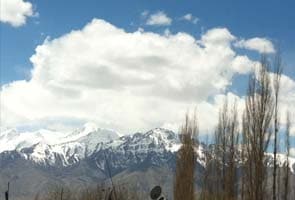 New Delhi:
Army chief Bikram Singh today met the Prime Minister and senior cabinet ministers and presented them with options for handling an incursion by China in Ladakh.
On the night of April 15, a platoon of Chinese soldiers crossed the de-factor border, the Line of Actual Control (LAC), and set up five camps on Indian territory in the Depsang Valley.
China has refused to withdraw.
Three flag meetings between local army commanders from both sides have not delivered a breakthrough.
The army chief reportedly suggested to the government that India's counter-measure can be cutting off routes to the five-tent remote camp set up by China which will effectively restrict their supplies.
The General suggested that Indian troops could cross the Chinese camp to patrol along the border, which would bring Indian soldiers very close to a bigger Chinese camp set up in Aksai Chin.
After China set up its five tents 19 kilometres deep into Indian territory, India set up its own camp just 500 meters away.
General Singh said that India, as another counter-measure, could add another temporary post in another area claimed by both sides.
The government has been counting on diplomatic negotiations to find a compromise, prompting severe criticism from the opposition and even key allies like Samajwadi Party chief and former Defence Minister Mulayam Singh Yadav.
So far, Foreign Affairs Minister Salman Khurshid has not cancelled a trip to Beijing for May 9. The Chinese premier Le Keqiang is expected to visit Delhi on May 20.