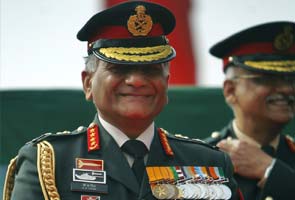 New Delhi:
The Ministry of Defence has reportedly denied General VK Singh permission to travel to Israel. Officially, the ministry has cited "critical situation prevailing in the Middle-East" as the reason for the denial. Sources however say the move is a fallout of the confrontation between the government and the Army chief over his age. The Ministry of Defence has denied this.
The news of the denial comes on a day when retirement orders General Singh were issued by the Military Secretary's branch, confirming that he will retire on May 31.
The government officially maintains that the situation in the Middle-East is not favorable with war clouds gathering over Iran. An official visit to Israel, it says, could send a wrong signal to Iran, with who India is doing a tight-rope walk. However, it is note-worthy that all military visits are planned and cleared at least a year in advance. The sudden denial of the permission has therefore raised many eyebrows.
General Singh was scheduled to visit the country from March 16 to 18. He has now been advised to travel there in the latter part of the year.
General VK Singh is the first serving Army chief to take the government to the Supreme Court over his age. But he was forced to withdraw his petition after the court sided with the government and indicated that it was not in favour of entertaining his petition, asking for all his records to show his date of birth as May 10, 1951 and not May 10, 1950. Documents in the Army reflect both years.