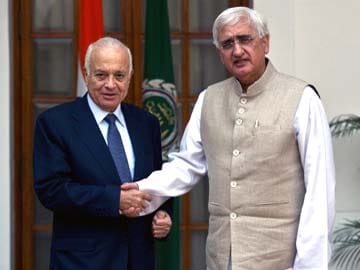 New Delhi:
Nabil el-Araby, secretary general of the League of Arab States, on Tuesday met External Affairs Minister Mr. Salman Khurshid and held talks on a wide gamut of bilateral, regional and international issues, including Syria.
A new Memorandum of Cooperation between India and the League of Arab States and the new Executive Programme (EP) for the years 2014-15 were signed during the visit.
These documents are aimed at imparting fresh momentum to the institutional links by providing for a structured engagement between India and the 22-member Arab States at the senior official and ministerial levels. It also envisages cooperation in diverse areas like trade and investment, energy, small and medium enterprises, culture, capacity building, etc, said a statement.
Mr Araby is paying an official visit to India Dec 16-18 on the invitation of Mr. Khurshid.
This is the first time the Arab League secretary general is visiting India since assuming the post. Mr Araby also met Vice President M. Hamid Ansari
The new Memorandum of Cooperation (MOC) replaces the existing MOC signed in December 2008. The new MOC provides for replacing the High Level Joint Committee of the existing MOC with new formats for future meetings, namely ministerial and senior officials meeting, involving all the member states and the Arab League Secretariat. It also provides for setting up of an Executive Programme which will be renewed every two years.
The Executive Programme is much more specific in terms of the cooperation envisaged in diverse areas like trade & investment, energy, small and medium enterprises, culture, capacity building, and attempts to specify the modality for each major activity. As per the EP, the League of Arab States Mission in New Delhi and the Indian Embassy in Cairo have been designated as the nodal points for coordination, said a ministry of external affairs statement.
As much as the historical and cultural interactions, today the Arab world is one of the largest partners for India with over $110 billion in trade, as well as a large expatriate population.
India and the Arab League first established a formal mechanism for dialogue and consultations in 2002. In 2010, the Indian ambassador in Cairo was designated as the Observer to the League.
During the last 11 years, there have been a number of high level visits and consultations.
Mr Araby, a distinguished diplomat who has served as Egypt's foreign minister and the Permanent Representative at the UN was the Egyptian ambassador to India in the early 1980s, said a statement from the Indian embassy, Cairo.