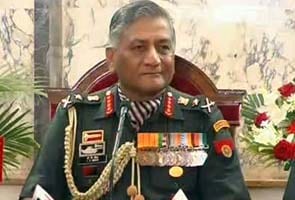 Bangalore:
General VK Singh, who retired as the army chief yesterday, has said he sees no reason to issue an apology to Bharat Earth Movers Limited or BEML. The defence public sector units sent a legal notice to General Singh today demanding an apology for what it calls his "false and motivated" allegations against it in connection with the Tatra-army trucks deal.
"Legal notice has been issued today. If he does not apologise, we may file a defamation suit against General VK Singh", BEML Chairman and Managing Director VRS Natarajan told reporters in Bangalore today. "The former army chief has made some allegations against BEML. As the CEO of the company, I deny them as absolutely false, motivated, damaging and defamatory", Mr Natarajan added.
Bharat Earth Movers Limited is one of India's biggest defence public sector units based in Bangalore. Tatra is a Czech truck manufacturer which supplies parts to BEML. The trucks are assembled at BEML and sold to the army. Tatra deals with the army came under scanner after General VK Singh disclosed in an interview this year that he was offered a bribe of Rs. 14 crores, just months after he took office, to clear "sub-standard" trucks for purchase by the army. The army has bought 7000 Tatra trucks since 1986.
"We deny the allegations against BEML. There is no substance behind it. Not a single letter has been received by BEML that the vehicles were substandard. Charges made by General Singh are false," Mr Natarajan alleged today. Referring to General Singh's interview to a private TV channel, he added, "He (VK Singh) said anything to do with BEML must be probed. He is damaging our image. This is not expected from a man of his stature."
General VK Singh however maintains that what BEML calls "false allegations" are actually facts. "There is no question of an apology. Apology for what? These are not allegations. These are facts," he retorted.
General Singh's 26-month tenure as army chief was mired in controversies and BEML's notice is not the only legal headache for him. He also faces a defamation suit for a press release that he sanctioned earlier this year which alleged that a retired officer, Tejinder Singh, had circumvented guidelines needed to order of-the-air monitoring equipment. The same statement said that Tejinder Singh was offering bribes on behalf of Tatra and Vectra, which supplies trucks to the army. The press release was issued amid reports that the army had tried to spy on the Defence Minister's office in the weeks before General VK Singh took the government to court. Tejinder Singh has sued the army chief over the press release. 24 hours before he retired, the Defence Ministry authorized a detailed inquiry into the incident, suggesting that the confrontations between General VK Singh and the government will continue.
General Singh's last year in office saw an unprecedented tension between the government and the army. General Singh became the first serving chief to take the government to court to demand that his records be corrected to reflect that he was born a year later than documented in some papers. He dropped his case in the Supreme Court after judges indicated they would not rule in his favour. Had he won his case, General VK Sing would have been eligible for another year in office.
In the last three months, a confidential letter from him to the PM, warning of serious deficiencies in the equipment used by the defence forces was leaked. General VK Singh has said that the leak was not orchestrated by the army. Early inquiries by the Intelligence Bureau seem to support this.