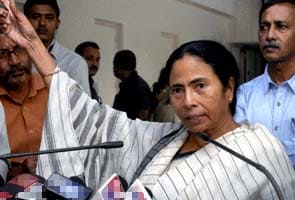 Kolkata:
Mamata Banerjee blames the opposition CPM for reports of a rape in West Bengal's Katwa district on Saturday. The chief minister says the account of the rape is "concocted" - the second allegation of this nature in as many weeks.
Ms Banerjee said that the woman's husband is a CPM sympathiser. However, the woman is a widow; her husband died 11 years ago.
The victim says she was travelling by train in Katwa when a group of men who were trying to rob passengers dragged her out onto the track and raped her. Ms Banerjee says that medical tests conducted on the victim have not confirmed a sexual assault.
Brinda Karat, a leader of the CPM, described the allegations as "outrageous." She said, "The message that goes out is that any woman who is a victim of rape cannot expect justice if the chief minister sees conspiracies everywhere."
Earlier this month, a woman filed a police case saying she had been raped by a gang of men who she met at a nightclub on Kolkata's famous Park street. Ms Banerjee dismissed the rape as "fabricated" and said the CPM was trying to malign her government. The police, however, confirmed the victim's version of events and has arrested three men.