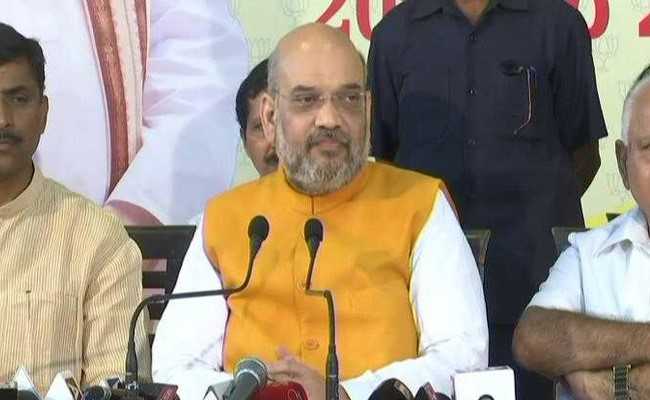 New Delhi:
BJP President Amit Shah said on Saturday that "a bomb to every bullet" is the only solution for Pakistan which has still been infiltrating terrorists in India.
In an interview with Aaj Tak, Shah said that India will respond with a bomb to every Pakistani bullet. "This is the only solution. We can't have peace talks amid bullets and bombs," he said to a query, why despite the surgical strikes, the situation along the Line of Control has not changed with Pakistan still infiltrating terrorists into India.
Despite party's loss in Gorakhpur and Phulpur by-polls in Uttar Pradesh, Shah claimed that the BJP will win with a massive majority in the forthcoming Karnataka assembly polls and the 2019 general elections under the guidance of Prime Minister Narendra Modi.
"We have formed a committee to look into the reason for the losses and will deliberate on its report. Bypolls are fought with local issues in mind. Every local poll has different dynamics. But in general elections, big leaders and issues are involved. In 2019, the BJP and the National Democratic Alliance (NDA) will get more seats," Shah said.
Shah said the BJP started preparation for 2019 Lok Sabha polls the very next day after the government took oath in 2014.
"We will contest the elections under his (Modi) guidance and popularity. The way Narendra Modi has run the government for four years, every state feels that India is going ahead. He is one of the most popular leaders in the world," he said.
Asked about whether BJP could win more than 50 seats in 2019 if Samajwadi party and Bahujan Samaj Party come together, he said: "This is not easy. Now, the media is gung-ho about the results in these two seats (Gorakhpur and Phulpur). We have lost eight seats, but have won in 11 states so far. No one mentions Tripura, where we won with a clean sweep."
Shah also scoffed at Congress President Rahul Gandhi's visits to temples, churches and mosques in Karnataka to win over voters.
"He went to temples in Gujarat and Himachal too. But what happened? After 1967, the Congress has never won more than 50 per cent of votes. We won 50 per cent of votes in Gujarat, Himachal and Tripura. To win 50 per cent of votes in a multiparty democratic system is a big mandate," he said.
Asked about election promises made during 2014 Lok Sabha poll campaign and party's biggest achievement that it will tout in the general elections, Shah said the BJP has tried to raise the living standard of the poor, brought in an impartial and decisive government and boosted India's pride and image.
On Sonia Gandhi's likening of BJP's slogan 'India Shining' in 2004, with the party's 2014 winning slogan 'Achhe din aane waale hain', Shah shot back, "What do you expect from her. Will she say Modi will win?"
He added that could anyone imagine that India will carry out surgical strike across the border like Israel and America to avenge the deaths of our soldiers, Isro will place 104 satellites in the orbit and an Indian PM would address the plenary session of the World Economic Forum.
Shah, however, hailed Uttar Pradesh Chief Minister Yogi Adityanath, saying the state is on the right track.
"There is zero corruption, problems of farmers have been solved and there is law and order. Many investment summits will be held. Akhilesh Yadav (former chief minister) could not hold such summits fearing untoward incidents. The state is moving in the right direction and will have double-digit growth," he said.
(Except for the headline, this story has not been edited by NDTV staff and is published from a syndicated feed.)