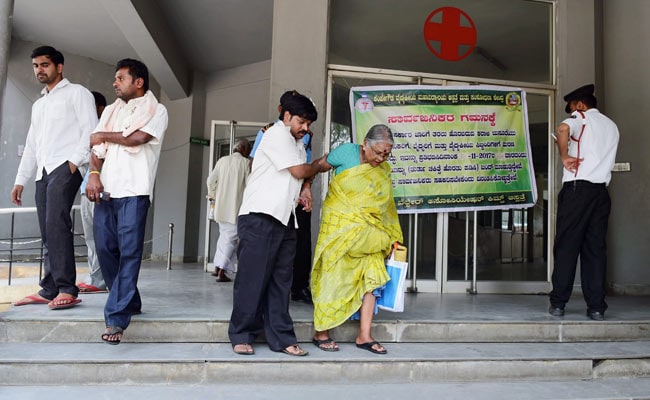 New Delhi:
Doctors have called off their nationwide 12-hour shutdown of OPD or outpatient department services at private hospitals, after the government agreed to their demand and sent a new legislation they are protesting against to a parliament committee for review. The Indian Medical Association (IMA) has described the Bill, which seeks to replace the Medical Council of India (MCI), as "anti-people and anti-patient". It was tabled in the Lok Sabha last week by union health minister JP Nadda.
Here are 10 points about the objections raised by the IMA:
The strike that began this morning was 'successful'. While healthcare services at many private hospitals across the country were affected, even surgeries were postponed in some places, IMA president Dr Ravi Wankhedkar told NDTV.

The IMA, which has 2.77 lakh members, claims the new National Medical Commission (NMC) Bill, 2017, will make the system prone to corruption and wants some provisions reviewed.

"NMC is an anti-poor bill with pro-private management clauses. It will "cripple" the functioning of medical professionals by making them 'completely answerable to the bureaucracy and non-medical administrators'," the association said.

The bill has provisions to allow ayurvedic as well as homeopathic doctors being allowed to practise allopathy after clearing a six-month bridge course. The IMA has strongly objected to it.

"Unscientific mixing of systems and empowering of other practitioners through bridge courses will only pave the way for substandard doctors and substandard medical practice. This will seriously impact patient care and patient safety," said the association.

As the new Bill proposes to do away with permissions needed to start a medical college, allowing private medical colleges to increase undergraduate and postgraduate seats on their own, the IMA wants strict regulations to run a medical college. The private medical colleges will be allowed to decide the fee for 60 per cent of their seats, while previously it was 15 per cent. This will increase the cost of medical education, former IMA president KK Aggarwal said.

Mr Nadda told the Rajya Sabha today that he had met people at the IMA and said "this Bill is beneficial to the medical profession" after members raised the issue of doctors' strike across the country.

The OPD shutdown call by IMA saw healthcare services suspended in private hospitals all over the country. Patients were inconvenienced as doctors put consultations on hold and postponed surgeries.

Even though services at government hospitals weren't affected, the doctors observed a 'Black Day' and wore black arm bands.

Dr Vivek Chouksey, President Federation of Resident Doctors Association, said, "It is a bill that the politicians are trying to push through and we are against it but we also don't want patients to suffer. So, our OPD services will go on as per routine but we are wearing a black band in protest."