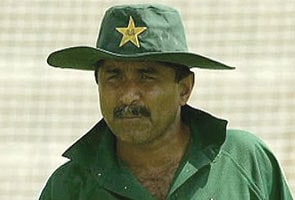 New Delhi:
Former Pakistani cricket captain Javed Miandad has reportedly cancelled his trip to India to watch Sunday's one-day match in Delhi after stirring a political controversy.
Mr Miandad's son is married to the daughter of underworld don Dawood Ibrahim, wanted by India for masterminding the serial blasts in Mumbai in 1993, in which over 250 people were killed and more than 700 injured.
Mr Miandad, now a senior official of the Pakistan Cricket Board (PCB), was scheduled to arrive in India tomorrow to watch a one-day cricket match between India and Pakistan in New Delhi on Sunday.
"It's a decision that has been taken by the government. I can't blame the home ministry, I cannot blame ourselves; it's a decision taken by the government. What are the circumstances, what is considered, when is the approval given, what goes into it is something that is an internal government matter," External Affairs Minister Salman Khurshid said on Thursday.
But even some in his own party disagreed. "We still consider Dawood Ibrahim the most wanted and have been asking Pakistan to send him back. Giving a visa to his relative will hurt the sentiments of people in India," Congress MP Jagdambika Pal said.
"The government and security agencies should be alert as to who is entering the country. The game should be played with sportsmanship and a good environment," BJP spokesperson Mukhtar Abbas Naqvi told reporters in Delhi.