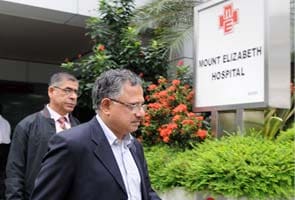 Singapore:
23-year-old Amanat (NOT her real name) is in "extremely critical" condition, top officials at the Mount Elizabeth Hospital in Singapore said on Thursday evening. Amanat was admitted here earlier in the day after being flown out from Delhi on an air ambulance.
"A multi-disciplinary team of specialists is taking care of her and doing everything possible to stabilise her condition," said a statement by Dr Kelvin Loh , the CEO of the hospital.
On December 16, Amanat was gang-raped on a moving bus by six drunk men who also hit her so severely with an iron rod that large parts of her intestines were removed in the 10 days she spent in a state-run hospital in Delhi.
Dr Loh said that Amanat had gone through three surgeries and a cardiac arrest in Delhi.
The horrific contours of her assault have left India seething; rallies led by students are being held every day in Delhi to demand more safety for women and a speedier and more effective legal system.
On Wednesday, the government organised passports and visas for Amanat and her parents after the cabinet decided that if doctors recommended her to be moved to Singapore, the government would handle the transfer.
According to sources, she became unstable in the last one hour of her flight to Singapore when the plane was at an altitude of 25,000 feet. Doctors on board the air ambulance were able to stabilise her.
The head of the hospital which treated her in New Delhi hinted that the Mount Elizabeth Hospital, located in Singapore's Orchard Road shopping district, was chosen for its modern organ transplant facility.
"The said hospital has a state-of-art multi-organ transplant facility. The arrangement has also been made for the family to accompany her as the treatment may take longer period," B.D. Athani, medical superintendent of Safdarjung Hospital in Delhi, said on Wednesday.
(
With inputs from agencies
)