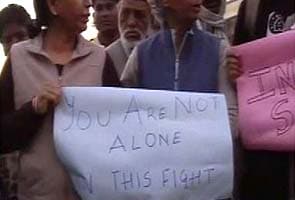 New Delhi:
Doctors attending to Amanat (NOT her real name) said today that the 23-year-old is "very serious, very critical and still not out of danger."
She has been fighting for her life since she was hit with an iron rod and then raped by six men on a moving bus in Delhi last weekend; a male friend travelling with her tried unsuccessfully to protect her from the men, who are now in jail.
The monstrous dimensions of the relentless assault on Amanat have hit India hard, with thousands of students holding daily rallies to demand better safety for women and a quick trial for the six men who have been arrested. Three of them have confessed to their involvement in the heinous attack.
Doctors today said Amanat has high fever, and is once again on a ventilator support system.
A blood infection or sepsis has spread; despite her fragile condition, she is "relatively composed", they said.
"The victim was subjected to psychiatric counselling today. Her parents were also given counselling. In that, it was found that the victim was relatively composed and that she neither showed anxiety or depression," said Dr BD Athani.
Amanat is being fed intravenously with nutrients and extreme doses of antibiotics; and she has communicated over the last few days with her family and the friend who was assaulted with her by alternating between scribbled messages and very short sentences.