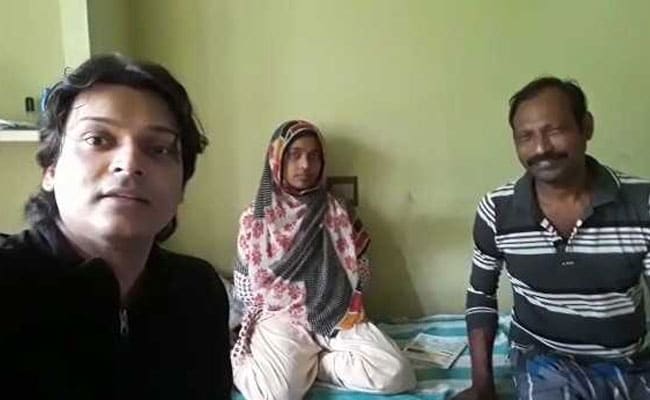 THIRUVANANTHAPURAM:
In a fresh video released to the media by an activist, Akhila Ashokan, or Hadiya as she prefers to be known, is heard pleading with activist Rahul Eashwar to help end her confinement. "Get me out of here. Today or tomorrow, I am going to die. I am sure about this. My father is getting angry, I can make out. He pushes me, stamps at me," says the 24-year-old Hadiya in the video recorded in August.
Hadiya has been living with her father after the Kerala High Court annulled her marriage to Shafin Jahan, 27 in May this year and ordered her to return to live with her parents in Kottayam. Outside the house, policemen stand guard round-the-clock to make sure she does.
When NDTV reached out to Hadiya's father Ashokan KM, he was dismissive of his daughter's concerns. "Nothing has happened to her so far... so there is no validity to her claims," the father said. "I don't have the time and need to see what Rahul Eashwar says," he said.
Activist Rahul Eashwar had met the woman
and her family in August and
had earlier released one video excerpt of his conversation
. He released another part this week. "While I am a Hindu activist, I believe Hadiya's voice must also be heard", Mr Eashwar told NDTV, adding that he would be handing over the entire footage to the court.
The high court had gone by her father Ashokan KM's claim that Shafin Jahan has links to terror-outfits and targeted Hadiya, who the father alleges, was forcefully converted by her friends.
On appeal against this high court verdict by Hadiya's husband, the Supreme Court had initially roped in the
anti-terror agency National Investigation Agency
to probe the circumstances of the marriage but earlier this month, also wondered how the high court could annul a marriage between two consenting adults.
A 24-year-old woman "cannot be controlled by her father",
Chief Justice Dipak Misra observed at the last hearing.
For right-wing groups in Kerala and elsewhere,
the 24-year-old came to become t
he face of love jihad; the term coined by them to allege an Islamist strategy to convert Hindu women via first romance and then marriage.
On a visit to Kerala last month, Uttar Pradesh Chief Minister Yogi Adityanath had also cited this case to accuse the Left-led government of not taking steps to check a "dangerous trend like love jihad".