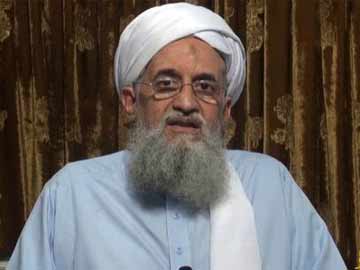 Al-Qaeda leader
Ayman al-Zawahiri
declared on Wednesday in a video message that the global Islamist extremist movement has launched a new off-shoot in the Indian sub-continent.
In the video, Zawahiri, Osama bin Laden's right hand man, who has been heading the organisation since he was killed in 2011, said, "We want Islam to return to the Indian subcontinent, which was part of the Muslim world before it was invaded. It will serve Muslims in Burma, Kashmir, Gujarat, Bangladesh, Ahmedabad and Assam."
Asim Umar, chief of Al Qaeda's Sharia Committee for Pakistan, has been named the leader of the new group, called the Qaedat al-Jihad. Another leader, Ustad Usama Mahmoud is named the spokesperson.
For India, which is already reeling with shock over reports of youths from Maharashtra and Tamil Nadu joining Iraq's Islamic State, this is being seen as an alarming call to arms.(Read:
One of the Four Indians Suspected to Have Joined ISIS Reportedly Dead
)
In the video, Zawahiri goes on to say, "Establishing Al Qaeda in the Indian subcontinent is the result of two years of work to unify the Mujahideen. The rise of this new branch demonstrates that jihad under the leadership of Amir of Believers, Mullah Omar (head of the Afghan Taliban) is expanding."
Among the six main goals of the new wing, Zawahiri lists the need to, "Establish sharia in the land and to free the occupied land of Muslims in the Indian sub-continent."
Al Qaeda, which has been under pressure since the death of Bin Laden in May 2011 in Pakistan in a US operation, is now facing a serious threat from the Islamic State, its breakaway faction, which controls vast areas in Iraq and Syria. Al Qaeda affiliates are in direct military confrontation with IS in Syria.
The organisation's chief, Abu Bakr al-Baghdadi, had proclaimed an Islamic State Caliphate in June after the group took over chunks of northern, western and central Iraq. In direct competition to Zawahiri, Baghdadi has also proclaimed himself "Caliph Ibrahim" and wants the "Caliphate" to include among other areas, Jordan, Palestine and all of Arabia. It already controls an estimated 30% of Syria. (Read:
Iraq Militants Declare Establishment of 'Caliphate'
)
With Baghdadi's sermons already drawing youth from the subcontinent to the "jihad" in Iraq, the announcement is being seen as Al Qaeda's attempt to get a foothold in the sub-continent. It is also an attempt to project Al Qaeda as a global jihadi organisation and grab back headlines from IS.