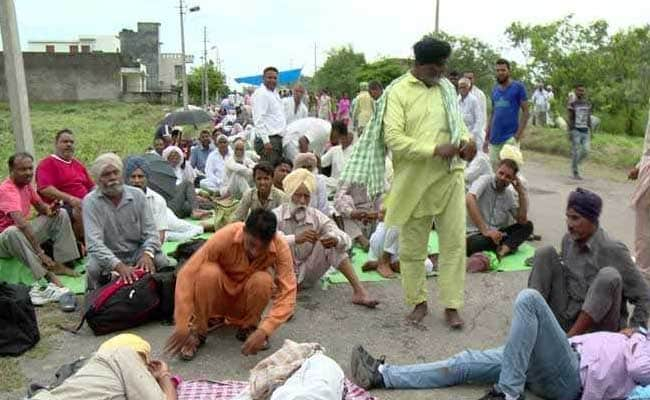 Chandigarh:
Thousands of policemen and paramilitary troops are in Punjab and Haryana ahead of a court verdict on Friday in a rape case against self-styled godman Gurmeet Ram Rahim Singh, who leads the influential Dera Sacha Sauda sect. The Chief Ministers of both states have appealed for peace, with a large number of Dera followers travelling to Panchkula town, where the case is being heard. The Dera describes itself as a 'social welfare and spiritual organization'. Its flamboyant and controversial chief claims to have 50 million followers and runs a spiritual empire apart from dabbling in films.
Gurmeet Ram Rahim Singh has been asked to personally appear in court to confront charges that in 2002 he sexually assaulted two of his women followers in the sprawling Dera headquarters on the outskirts of Sirsa town in Haryana, some 260 km from state capital Chandigarh.

The allegations surfaced as anonymous letters were circulated about the alleged sexual exploitation of two "Sadhvis". The Dera chief was charged in 2007 and the trial began the following year after the CBI took the testimonies of the two women. Gurmeet Ram Rahim Singh has denied the charges.

Thousands of Dera followers, who call themselves 'Premis', are expected to gather at Panchkula for the verdict by a CBI court. The police in Punjab and Haryana are wary of trouble-makers going on the rampage if the court ruling doesn't favour Gurmeet Ram Rahim Singh. Many supporters of the Dera chief have been urging him not to show up in court at all.

Multiple teams including those of the Rapid Action Force, the Central Reserve Police Force and the Haryana police have been stationed outside the CBI court complex in Panchkula and its adjoining roads. Two control rooms have been set up to keep a watch.

Vehicles have been banned from the Panchkula district court complex and its neighbouring roads for tomorrow and Friday, according to senior police officer Ashok Kumar.

The police are also keeping an eye on social media and sources say internet services could potentially be blocked across Punjab and Haryana if the situation calls for it.

"The centre has assured us more troops if required. From Sirsa to Panchkula, the Haryana police is fully alert. Sensitive areas have been identified in Hisar, Fatehabad, Jind, Hansi, Kaithal and Kurukshetra and police in these districts have been directed to be vigilant," said Haryana police chief BS Sandhu.

Gurmeet Ram Rahim Singh is known for his outlandish costumes and his "MSG (Messenger of God)" film franchise in which he has acted and also credited himself with 30 other roles including choreographer, stunt director, screen-play writer and makeup artist.

He also faces trial in a case involving the murder of a journalist, Ram Chander Chhatrapati, who was believed to be his follower once. The case was meant to be heard last Saturday at a court in Sirsa but the Dera chief did not show up claiming health problems, after which the hearing was deferred to September 16.

Known for his political connections, the "godman" has been in trouble in the past for allegedly dressing up as the 10th Sikh guru, Guru Gobind Singh.