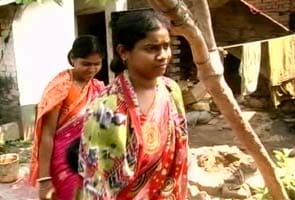 Singur, West Bengal:
The Saradha Group collapse, which wiped out the savings of lakhs of people, has forced a reality check among small investors in rural Bengal who have invested in other schemes that promised big returns.
Sushanta Polen, a farmer in Singur - made famous by Mamata Banerjee's protest that forced the Tatas shift their Nano plant to Gujarat - says he invested Rs 10,000 in a scheme run by Alchemist Infra Realty Limited in 2009. He was promised a share in land in Haryana and a 200 per cent return on his money by 2017.
Polen could ill-afford the investment. His land was acquired for the Tata Nano project and he was one of those farmers who protested and had refused to accept compensation.
He says he was convinced to buy into the scheme by the village pradhan or headman, a Trinamool Congress man who is also the local Alchemist agent. Alchemist Infra Realty Limited is part of the Alchemist group, whose Chairman Emeritus is Rajya Sabha MP KD Singh of the ruling Trinamool Congress.
The village pradhan, Dudhkumar Dhara, confirms he was elected on a Trinamool ticket in 2008, and became the local agent for Alchemist soon after. But he also says that he did not get the job because of his Trinamool link.
The opposition in Bengal has alleged that the Saradha Group that went bust this month, ran dodgy schemes unchecked in West Bengal because two Trinamool MPs had links with it. Chief Minister Mamata Banerjee and her two MPs have emphatically denied the allegations. But many agents and investors have said they put their money and faith in Saradha because they believed it had the blessings of the ruling party.
Polen's neighbours Shompa Das and Haradhan Adak have invested money in other schemes. Shompa says she began investing last year in a Rose Valley group scheme that promised to turn Rs 60,000 invested in five years into Rs 96000.
After Saradha went bust, a worried Shompa checked with her agent. He assured her that her money was in safe hands. This week, Rose Valley issued ads in newspapers assuring investors that they would not be duped.
But Rose Valley is being investigated for alleged fraud by market regulator SEBI.
I Core Services, the company that Haradhan Adak has invested in, is one of 70 companies in the state against whom complaints have been received by the Ministry for Corporate Affairs for allegedly running get-rich-quick schemes. I Core has handed a post-dated cheque for Rs 1 lakh to Adak, to be encashed in 2020, 12 years after he invested Rs 10,000.
Alchemist Infra Realty was the subject of a government inquiry in 2012, but the matter is now in court.
Saradha too had promised its customers massive returns on their money. Now, Adak says he is very worried and, like Polen and Shompa, wants some reassurances. Unfortunately, there are none.