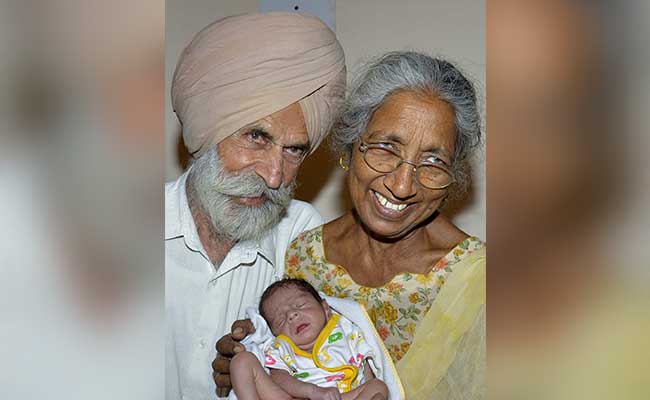 The couple from Amritsar, India, had been married without children for nearly five decades.
Those long years were enough, Daljinder Kaur told her husband Mohinder Singh Gill. She was having a baby with or without him. "Due to a family feud we never focused on our dream to become parents," Gill told Barcroft TV. In September 2014, Kaur declared she was going to the National Fertility and Test Tube Baby Centre in Haryana. Her husband could come along if he wanted.
In April, 46 years after Kaur and Gill married, Kaur gave birth to a son named Arman. Kaur is in her early 70s. Gill is 79.
Kaur overcame the protestations of the Haryana fertility doctors, who ultimately agreed she was sufficiently fit -- as well as sufficiently stubborn -- to give birth. Arman was conceived through in vitro fertilization.
"I used to feel empty. There was so much loneliness," Kaur told the Agence France-Presse. "I feel blessed to be able to hold my own baby. I had lost hope of becoming a mother ever." Kaur's health appears to be as good as her spirits, as Barcroft TV noted she is breastfeeding her son, assuaging some of the clinic doctors' concerns.
Kaur is one of -- if not the -- oldest women to give birth; it cannot be said definitively, however, because Kaur lacks a birth certificate. She believes she is about 70. Anurag Bishnoi, the physician who oversaw her pregnancy, told the Guardian that Kaur is possibly 72.
Giving birth at 59, a woman named Dawn Brooke is thought to be the oldest mother who did not use reproductive treatments. When assisted reproductive technologies like in vitro fertilization enter into the picture, maternal records stretch significantly older. A 66-year-old Spanish woman, Maria del Carmen Bousada de Lara, gave birth to twins in 2006; she later admitted to lying to doctors about her age -- she said she was 55 -- in order to have access to in vitro fertility treatments. Rajo Devi Lohan, who is from India like Kaur, claimed the record at age of 70, when she gave birth to a daughter in 2008. In 2013, the World Health Organization estimated the life expectancy for a woman in India to be 68 years old.
During in vitro fertilization, or IVF, sperm meets egg in a petri dish rather than a fallopian tube. The advent of this technology, coupled with donor eggs, opened up pregnancy to women who had gone through menopause; one early study of women between 50 and 63 indicated that the likelihood of getting pregnant through IVF, as well as the rate of miscarriages, was on par with that of women in their twenties -- though the researchers reported a higher chance of complications among older women.
In the U.S., though the number of births among postmenopausal women remain low, they are on the rise. Births among women aged 50 to 54 tripled between 2000 and 2013, the AARP reported in 2015, increasing from 255 births to 677 births over 13 years. There is no formal age cutoff in the United States for IVF, though fertility clinics are likely to decline women older than 55. In India, one guideline recommends that couples whose combined age is over 100 should not receive IVF.
Bina Vasan, a former president of the Indian Society for Assisted Reproduction, noted that Kaur and Singh have a combined age of 150. "This sends the wrong message to society, that anyone can give birth to a child at any age," she said in an interview with the Times of India. "We condemn such a practice."
Others take the view that denying women IVF procedures would be interfering their right to have a child. A strict upper limit on age is difficult to establish, Johns Hopkins University bioethicist Jeffrey Kahn told Time magazine in 2015, "because it contradicts reproductive liberties," drawing a parallel to men who father children at advanced ages.
Bishnoi, Kaur's doctor, agrees. "Reproduction is a fundamental right," he said to the Telegraph. As for Arman's parents, Bishnoi added, "They have relatives who are ready to help take care of the baby. And you can make anyone a guardian."
To some medical experts, a late-in-life pregnancy is not a question of medical possibility but unclear ramifications. "Someone has to look out for the best interests of children," bioethicist Arthur Caplan told the Los Angeles Times in 2007, in the wake of Bousada's reveal she had lied about her age.
Caplan and Yale University fertility expert Pasquale Patrizio argue in a 2010 academic paper that while it is reprehensible to take away the right to a family, there is no "legal obligation to provide older persons with the technology requisite for them to reproduce." They conclude that there are three "morally appropriate" demands for older women who would use IVF: complete medical exams; safeguards to ensure that, whatever should happen, a child would have a parent or guardian; and establishing limits on age along with the number of donor embryos used each cycle.
"God heard our prayers," Kaur told the AFP. "My life feels complete now."
© 2016 The Washington Post
(This story has not been edited by NDTV staff and is auto-generated from a syndicated feed.)