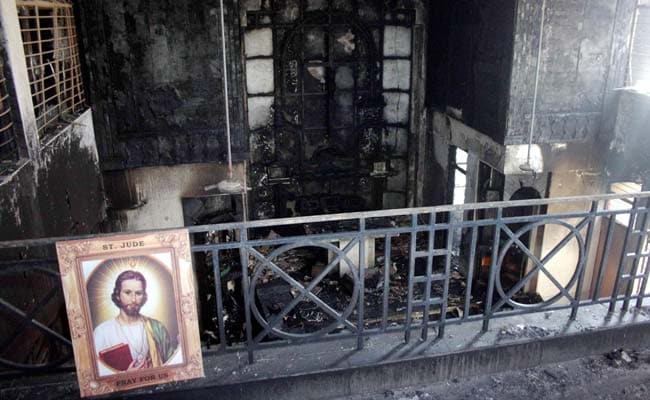 New Delhi:
Hundreds of Christians protested in Delhi on Tuesday and also appealed to Prime Minister Narendra Modi for safety, suspecting mischief behind a fire that has destroyed much of a Catholic church.
"We have asked the prime minister to ensure that such incidents don't take place. Similar incidents are happening in other parts of the country as well. Churches are being attacked," Archbishop of Delhi, Anil Couto said, demanding a judicial inquiry into a blaze on Monday morning that left the St Sebastian's Church in east Delhi mostly in ruins.
"The entire interior, including the Altar, the Holy Bible and Cross were reduced to ashes," the Delhi Catholic Archdiocese said in a statement.
The police have registered a case but the church accuses them of reacting late to the fire call. "The police and the forensic team only reached at 5.30 pm, though the fire broke out in the morning," said Father Stanley of the church.
After protests today, the police promised a Special Investigation Team to look into the fire.
The incident was also raised in Parliament by the Congress and the Trinamool Congress. Responding to calls for a probe, union minister M Venkaiah Naidu called the incident "very serious and condemnable" and said he would speak to Home Minister Rajnath Singh.
Arvind Kejriwal, the chief of the Aam Aadmi Party, visited the church on Monday and demanded "a serious, thorough, time-bound and impartial probe."
The police have been accused of ignoring clear evidence of arson. A forensic team has reportedly found traces of kerosene on the church premises.
A watchman spotted the fire at around 6.30 am, when the church was empty. The police say the building was unguarded between 5 and 6 am and the fire may have started then.
Saint Sebastian's Church was built in 2001 in an area that has a mixed population of Hindus and Christians. The police are cautious as 15 km away is the Trilokpuri area, where 60 people were injured in communal tension during Diwali in October.
Christians account for about 2.5 percent of the country's 1.2 billion people.