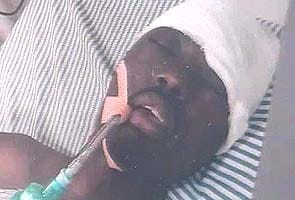 Patiala:
An African student, who was brutally assaulted in Jalandhar last year and went into coma, is on the road to recovery; he has regained consciousness in a Patiala hospital.
"He is improving. We are thankful to the people here, but we are still not sure if we can take him back," said Nestor Ntibateganya, Yannick's father.
23-year-old Yannick Nihangaza, a student from Burundi, was walking to a party in Jalandhar on April 22 when he was stoned, severely beaten and left to die on the road. Some passers-by took him to hospital, where he was in coma for nearly nine months. Yannick was enrolled as a student of B.Sc. Computers, First Year, at the Lovely Professional University.
In July, the Jalandhar Police arrested prime accused Romi Uppal, the son of a Superintendent of Police, after his name figured in the call details of the main accused who beat Yannick. So far, seven people have been arrested in the case.
Romi's father Dharam Singh Uppal, who was suspended in October last year for allegedly threatening the eyewitnesses and influencing the probe into the case for shielding his son, died of cardiac arrest on Tuesday.
Romi is currently under judicial custody.
The police, meanwhile, say they are in constant touch with the hospital authorities and if the family wants they can make arrangements to shift Yannick to his country on an air ambulance.
"We are monitoring his condition, he is far better and we are hopeful that he will recover. We are even acquiring portable life support and we have plans to send him to his country on air ambulance. We will take care of him," said GK Singh, Deputy Commissioner of Police, Patiala.
(With inputs from agencies)