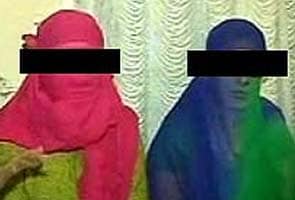 Mumbai:
The Shiv Sena has called for bandh in Palghar district today in protest against the suspension of two policemen for arresting two young women for an anti-bandh post on Facebook on the Sunday that Shiv Sena leader Bal Thackeray's funeral shut Mumbai down. As the Maharashtra government cracked the whip, it also admitted that its policemen do not know much about laws that govern the use of Information Technology and that they need to be trained.
One woman had posted , "Everyday 1000s of people die but still the world moves on. Just due to one political leaders death... everyone just goes bonkers. They should know we are resilient by force, not by choice. Respect is earned, not given and definitely not forced. Today Mumbai shuts down due to fear and not due to respect." Her friend "liked" it. A case was registered on a Shiv Sena leader's complaint and both the women were arrested that evening. The two cops suspended on Tuesday- Superintendent of Police Ravindra Sengaonkar and Inspector Shrikant Pingale - were advised by seniors that they did not need to arrest the women, but they did so regardless, said Maharashtra Home Minister RR Patil. A third Palghar cop, an Additional Superintendent of Police, has been issued a letter of displeasure.
The father of one of the victims, however, said all he wants is that the charges against her daughter should be dropped.
"My main interest is dropping the charge so that my child is free. As far as suspensions are concerned, these are not really of any interest to me. I don't have any enmity towards anyone. Their treatment was OK, they did not harass us in any way. However, this is a happier news," he said.
He also recollected that the day before the arrest, when they were entering the police station, huge crowd had gathered outside and as they were walking towards the building, two women slapped his daughter several times. He said he doesn't know if the women were members of the Shiv Sena.
Earlier yesterday, the Bombay High Court transferred the judge who sent the two 21-year-old women to judicial custody after their arrest, and then granted them bail on a bond of Rs. 15,000 each. First class judicial magistrate Ramchandra Bagade was transferred to Jalgaon from Palghar with immediate effect this morning, a week after he gave judgment in the Facebook arrests case.
The action against the policemen is based on recommendations made in an inquiry report submitted by Inspector General (Konkan Range) Sukhwinder Singh. Mr Singh has also reportedly said in his confidential that sections applied in the case were not justified. Mr Patil promised to look into this. Action in the case is being supervised at the highest level; the home minister said he had met Chief Minister Prithviraj Chavan early on Tuesday morning to discuss the matter.
The women were arrested under Section 295 (A) (deliberate and malicious acts, intended to outrage religious feelings or any class by insulting its religion or religious beliefs) and Section 505(2) (statements creating or promoting enmity, hatred or ill-will between classes) of the Indian Penal Code (IPC) and the IT Act.
A clinic owned by one of the victim's uncle was also ransacked by a group of alleged Shiv Sena workers. Ten people were arrested for the attack, but were all released on bail of Rs. 7,500 each as surety. Half the amount the women had to pay.