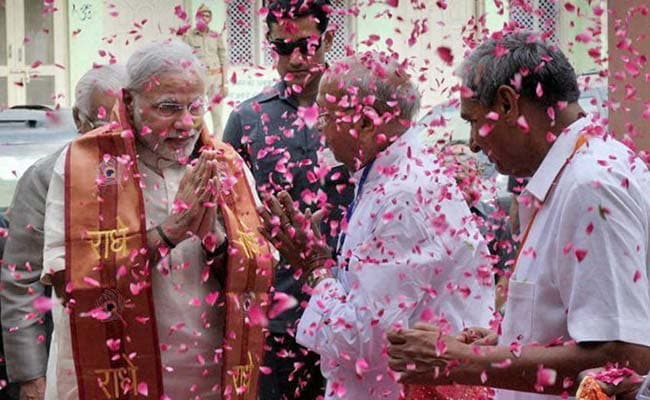 Mathura:
Presenting a "report card for the last 365 days," Prime Minister Narendra Modi said on Monday, that he has scrapped several outdated laws and will scrap many more in the next few days.

"In the coming days I will scrap 1300 laws," he promised, also telling thousands of supporters at a mega rally in Uttar Pradesh's Mathura that he has uprooted corruption in his first 12 months in office and ended the "looting" of the country. (Highlights on PM's speech)

"I will not be Pradhan Mantri (prime minister) but Pradhan Santri (prime guard)," the Prime Minister said.

"These are achche din (good days) for many, but burey din (bad days) for some. It will only get worse... the time is up for those who looted the country" PM Modi said, hitting back at the opposition Congress and its leader Rahul Gandhi, who has attacked PM Modi aggressively in the last few days, accusing the government of pursuing a reforms agenda that is "anti-poor" and anti-farmer" and "pro-big-industry".

"This government is dedicated to the poor," PM Modi said, in his hour-long speech at the rally, the first of 200 that the BJP plans to celebrate the government's first year in office. He detailed how his government has spent the last one year working for the poor and vowed to improve the lot of the country's beleaguered farmers, promising non-stop power and better irrigation.


Accused by Mr Gandhi of neglecting farmers in distress, PM Modi acknowledged that farmers face tough times and promised to tide them over a urea crisis. "Farmers will get as much urea as they want, when they want," he said.
But he also said that about 3,00,000 struggling farmers had killed themselves since Independence.
"We don't have to do politics on this issue but we must understand that an Indian has died. Farmers are facing a lot of issues," said PM Modi who has faced criticism over a controversial land bill designed to make it easier for businesses to acquire farmland, which the opposition alleges will worsen the farmers' plight.