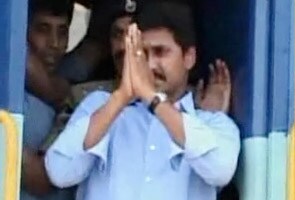 Hyderabad:
I don't know how good is Jaganmohan Reddy at cricket but he is surely taking a Shoaib Akhtar-like rather long run-up.
He will sound the bugle for the battle for the throne in Hyderabad from as far as Ichchapuram on the Andhra-Orissa border on July 8, that happens to be dad Y S Rajasekhara Reddy's birth anniversary.
Ichchapuram in Srikakulam district is also the place where YSR in 2003, ended his 1500 km long padyatra launched from Chevella in Ranga reddy district. That walk in the hot summer catapulted YSR to the CM's chair; Jagan is hoping the journey in reverse would work just as well.
The official purpose is to console the families of those who died, reportedly unable to bear the shock of YSR's death. But make no mistake, there is nothing apolitical about the Odarpu yatra now. In his open letter, Jagan mentions that he is going ahead with the tour even though Sonia Gandhi is against it. It is a conscious decision to take the High command head on. He is telling the world that he is disobeying 10 Janpath. The message to his supporters is loud and clear- That the time has now come when they have to decide between the party and Jagan.
Why has Jagan decided to raise the banner of revolt now, less than a year since YSR died?
One, Jagan realises the Congress will never make him CM. When it could overlook the support of 150 MLAs in September 2009 and not give him the top job, why would it now, when he no longer enjoys that kind of support.
Two, he knows the sympathy factor will not last long. Jagan is like the moon, who needs the light from YSR's sun to fall on him, otherwise he could be eclipsed.
Three, the party has cut his support base drastically, by force, coercion or by holding out carrots. Many of his enthusiastic supporters have either become fence sitters or bought peace with Rosaiah.
July 8 in that sense, is the opportune moment for Jagan. Almost make or break. The sentiment associated with YSR is very strong in a place like Ichchapuram and Jagan will invoke his dad's name like never before. With people disenchanted with continous whispers of YSR's schemes being rolled back, Jagan will go all out to encash that anger.
In his letter, he writes, "I inherited not just the blood of YSR but also the nature of YSR. It was my dad's nature that he never reneged on his promise. I too don't.'' This is the cub certifying that he has the Kadapa tiger's DNA and he is game to hunt in the big, bad jungle of Congress and Andhra politics.
But will Congress MLAs risk the High command's wrath by being seen in Jagan's company? So far, most of them, are choosing to play it safe. Botsa Satyanarayana, panchayati raj minister and a staunch YSR loyalist from Vizianagaram, says he will stick with the Congress. Jagan loyalist Ambati Rambabu, who is party general secretary, says he will remain both with the party and Jagan. Party spokesperson Tulasi Reddy, another YSR man, wants to bat for the Congress. So will Jagan be a lone commander without an army of lieutenants?
Political analyst K Nageshwar says a legislator going with Jagan is like selling a fixed asset and investing that money in the stock market. "Jagan's political future is speculative. Many MLAs may clandestinely be with him but for them to make a clean break, will mean taking a huge risk. They will go with him only if they are assured of a secure political future, where they can return as MLAs.''
History has shown that hugely charismatic leaders have failed to make an impact, without the backing of the party apparatus. Uma Bharti and Kalyan Singh are a case in point. In Andhra Pradesh itself, with nine months of NTR winning a landslide victory, Chandrababu Naidu made his charismatic father-in-law a political zero. Naidu in 1995 had no charisma; in fact, he had a negative image because of the palace coup but with the support of the TDP structure, he could checkmate NTR.
One has to look only further south to see the fate of an ambitious son of a powerful former chief minister. Muralidharan s/o Karunakaran. A series of foolish political moves has virtually finished Murali's political career in Kerala. Is Jagan going the Murali way?
Jagan's camp knows the Congress will wait and watch and closely monitor how many MLAs join Jagan. The crowds will not be an indicator, everyone knows they can be managed. If Jagan manages even 25-30 MLAs, the Congress could choose to buy peace with him. Anything less will embolden them to suspend him to send a message to his band of loyalists. Sources say it is this number of around 30 that Jagan's camp is trying to ensure it has on its side. Whatever it takes.
The Congress will not want its government to fall. Chiranjeevi's 18 MLAs are an important buffer even if it means casting the actor in the role of the deputy chief minister.
Jagan knows he is playing for 2014. For a situation where Andhra Pradesh may be bifurcated. In which case, his anti-Telangana stance will be a handy political slogan in a separate Andhra state. Jagan vs Congress (+ Chiru) vs TDP will be an engrossing contest. I say TDP because Naidu's ego will find it difficult to fight for the top job in a smaller state and he may well move over to Delhi, leaving the wicket free for his brother-in-law, Balakrishna. Jagan will fancy his chances against these two heroes.
But for now, it is Srikakulam that beckons Jagan. It is a long journey that he has to undertake, in which there are no shortcuts. And unlike YSR, he is undertaking the journey in the monsoon season, when it would be slippery. The game of politics, even more.