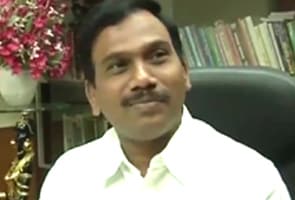 New Delhi:
A Raja, the man who allegedly planned and executed India's biggest scam, has applied for bail in a Delhi court today. His case will be heard on Friday. His lawyers say that because the evidence in the case rests in documents already submitted to the court, there is no risk of him being able to tamper with them if allowed to leave prison. Mr Raja has also said the case against him is fabricated and he expects to be acquitted.
Mr Raja has been in jail for more than a year; he was arrested in February 2011. He has been accused by the CBI of selling licenses for mobile networks and accompanying frequency at clearance rates , costing the country thousands of crores. These licenses were given in 2008 by Mr Raja to companies that he allegedly pushed to the front of a long line of applicants.
Mr Raja belongs to the DMK, which has suffered heavy casualties in the telecom or 2G scam. Its president's daughter, M Kanimozhi, was also jailed for helping Mr Raja to route a kickback from a telecom company to a TV channel co-owned by her in Chennai. Kanimozhi, who is a Rajya Sabha MP ,was granted bail in November.
Of the 19 people accused in the scam, Mr Raja is the only person who has not been granted bail so far. Former telecom secretary Siddhartha Behura was given bail by the Supreme Court today. RK Chandolia, the third government servant charge-sheeted in the scam, is already on bail. Mr Raja has been accused of criminal breach of trust by a public servant" - if he is found guilty, he could be sentenced to life imprisonment.
In February, the Supreme Court cancelled 122 licenses Mr Raja had allotted and ordered their redistribution via an auction. The court said that Mr Raja had twisted a first-come-first-serve policy, and ordered that all natural resources must be sold on the basis of an open bidding system.
The telecom scam landed some of the biggest names in India's telecom sector in jail. They included three executives from Anil Ambani's Reliance Telecom and the owner of Unitech Wireless, Sanjay Chandra.