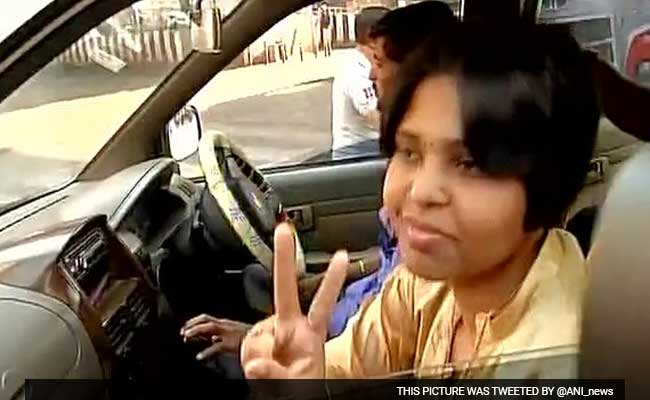 Kolhapur:
The police charged seven people, including five priests of Shri Mahalaxmi Temple for assaulting activist Trupti Desai at the temple complex on April 13, an official said today.
The accused five priests are -- Kedar Muneshwar, Shreesh Muneshwar, Mayur Muneshwar, Chaitanya Ashtekar and Nikhil Shanbag -- all working at the temple.
Besides, two local Nationalist Congress Party activists Kisan Kalyankar and Jaykumar Shinde and their unidentified supporters have also been named in the FIR lodged by Junarajwada Police Station.
The incident happened on the evening of last Wednesday, April 13, when the Bhumata Ranragini Brigade president and her supporters arrived at the temple attempting to enter the sanctum sanctorum where women devotees are banned.
"The accused and their supporters willfully and illegally attempted to stop them, pushed them around, sprayed turmeric, kumkum powder and ink on them, posing a physical threat to them," an official said.
The accused are also charged with attempts to prevent the police from doing their duty and roughing up the police personnel at the temple premises, a report of which has been sent to the local court. Shortly after the incident, an injured Desai was shifted to a hospital and remained in ICU for over two days before being discharged on Friday.
Later, the temple priests denied they assaulted Ms Desai and claimed that they were trying to reason with her on the temple traditions and dress code which she and supporters had allegedly violated. On its part, the Bhumata Ranragini Brigade (BRB) said the temple priests' actions were violative of the Bombay High Court order of April 1, which ruled that under the Maharashtra Hindu Place of Worship (Entry Authorisation) Act, 1956, women could not be barred from any place of worship.
Following the order, on April 8, the Shani Shingnapur Temple Trust, Ahmednagar, in a historical move, threw open the temple for women devotees where they were banned since over four centuries.