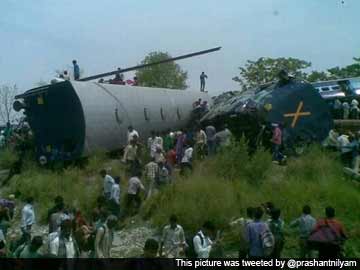 New Delhi:
40 people have died after the Gorakhdham Express rammed a stationary goods train near Khalilabad in Uttar Pradesh, said officials. At least 100 others have been injured.
The incident took place this morning when the express train came on the same track as the goods train near Churaid Railway Station at the Sant Kabirnagar district some 230 km from state capital Lucknow. Due to the impact, six bogies derailed.
Rescuers worked to free people trapped under toppled cars and debris. The train's driver and assistant driver were in critical condition, railway official Alok Kumar said.
Trains were diverted to other tracks to avoid the wreckage.
Narendra Modi, who takes over as Prime Minister today, expressed condolences. "Spoke to the Cabinet Secretary. Asked him to take an overview of the situation & ensure timely assistance to those injured," Mr Modi tweeted.
Rajnath Singh, who will be sworn in as part of the Narendra Modi cabinet today, tweeted his condolences for those who have been killed.