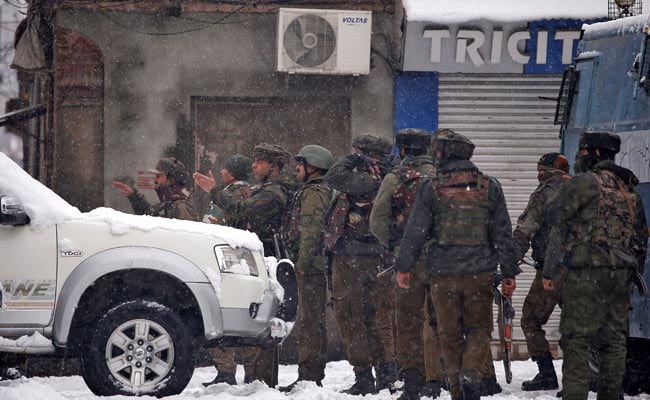 New Delhi:
Over 300 terrorists are waiting in Pakistan and are ready to infiltrate into India to mount terror attacks, the Indian Army said today. The Pakistani Army has a direct role in planning terror attacks in Jammu and Kashmir, Lieutenant General Devraj Anbu told reporters at the Northern Command headquarters in Udhampur, 200 km from Srinagar.
"185-220 terrorists in the south and 190-225 terrorists in the north of Peer Panjal ranges are ready for infiltration," Lt Gen Anbu said, news agency Press Trust of India reported.
After a 36-hour-long operation last week, the Army had cleared Jammu's Sunjuwan Army of all four terrorists of Jaish-e Mohammad, who had launched a pre-dawn attack on the camp on Saturday.
Before they died, the terrorists had gunned down five soldiers and a civilian. Ten people were injured. The attack was one of the worst since the 2016 attack in Uri, in which 19 soldiers were killed.
On possible Indian retaliation against the terror attack on the Sunjuwan camp, Lt Gen Anbu said, "Operating along the LoC (Line of Control) is quite complex and challenging. I do not feel that we really need to do tit for tat. We plan our strategy and we will continue with this."
He said 192 Pakistani soldiers have been killed in retaliation by Indian forces after Pakistan attacked Indian posts. "They admitted only six or seven deaths in two incidents, but our sources said that number is big," he said.
Defence Minister Nirmala Sitharaman has also said "Pakistan will pay" for the attack by terrorists from across the border on the Army camp in Jammu. "I wouldn't certainly state a timeline (for action against Pakistan). But will say this, Pakistan will pay for this misadventure. I repeat, Pakistan will pay for it," the minister had said at a press conference in Jammu.
She was asked by reporters what action the government plans after a spike in terror attacks by Pakistan-based terror groups despite the surgical strike in September 2016, when Indian forces crossed the Line of Control and targeted multiple terror bases, less than two weeks after terrorists attacked an Army camp in Jammu and Kashmir's Uri, killing 19 soldiers.
With inputs from PTI