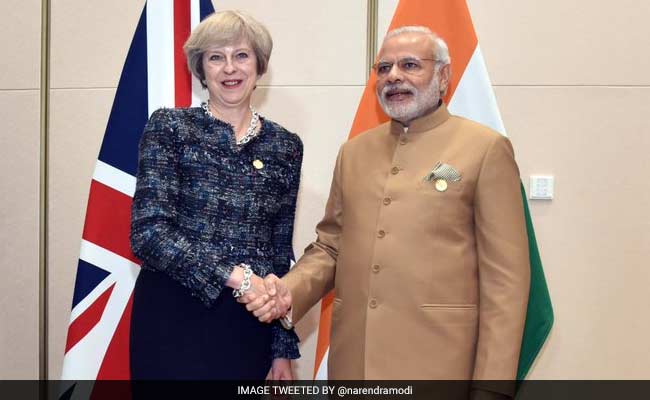 New Delhi:
Prime Minister Theresa May has promised to ease entry for Indian businessmen into the UK with a fast-track visa service, as she began a three-day visit to India focused on trade and investment.
The 60-year-old Conservative leader made the announcement at a tech meet in Delhi on Monday before she holds talks with Prime Minister Narendra Modi over lunch in her first bilateral engagement outside Europe since taking office in July.
On Tuesday, Ms May heads to technology hub Bengaluru where she will visit manufacturing plants and meet the state's chief minister Siddaramaiah. Over three dozen top British industrialists have traveled with her as she pitches for Indian business at a time that the pound has fallen by nearly 20 per cent and the British economy has taken a huge hit post Brexit - UK's exit from the European Union.
But, say Indian IT professionals who met up in London over the weekend to discuss the impact of the British PM's visit, three important questions seek answers at Ms May's meeting with PM Modi - can there be more trade from India to the UK when Ms May's government has made it tougher for Indian professionals to travel to that country? Why is it harder now for Indian students to study in Britain and look for jobs? And, why is it being made harder for Indian companies in the UK to hire skilled workers from outside, when India is the third-largest investor in Britain and Indian companies are its largest manufacturing employers.
Just last Friday Theresa May's government made it more difficult to get a Tier 2 work visa to the UK, mainly used by IT professionals from India; at least 90 percent of Tier 2 visas are issued to Indian techies.
Many young professionals, especially those starting careers, will be hit, said 34-year-old Nikhil Majumdar from Mumbai. "We always have several short term projects in the company. And a specific niche skill set is needed. It is often difficult to get local talent to meet those needs. That's where we need people to travel. I see this affecting junior techies from the industry in India badly. Also projects take a hit, delivery is delayed." Mr Majumdar said.
Professionals will now have to make a minimum of 30,000 pounds a year to be eligible to apply for the Tier 2 visa. "I think small scale industries, start up companies and entrepreneurs who wanted to look at the UK for investment will change their plans because they cannot afford these salaries," Sudhir Sarode, 35, said.
In more new rules, Britain wants students from foreign nationalities to prove their eligibility to study at a UK university - which means tougher tests, more financial wherewithal. Indian students in London alone contribute up to 130 million pounds a year, but the number of students from India studying at UK universities has declined substantially. From 45,000 a year, it dropped to 25,000 last year. In contrast, the number of Chinese students studying in the UK rose from 55000 to 90000 in the same period.
Also, a post study work visa has been scrapped and students are asked to find jobs within four months of their completing their courses if they want to continue living in the country.