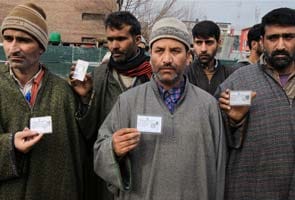 Srinagar:
A day after a woman sarpanch was shot and critically injured by militants, 22 panchayat members in the Baramulla district in north Jammu and Kashmir have resigned, citing "threats
to their lives".
Elected village heads from Sopore area in the district publicly announced their resignations today in Srinagar.
"We are resigning and we are requesting Jihadi groups that we are homeless. We are apologising to those groups...May be, we have done some injustice with the people," said Bilal Ahmad, a panchayat member.
Last evening, Zoona Begum, a woman panchayat member, was shot in the neck and head by suspected militants inside her house at Hardshiva Sopore in Baramulla district. She is presently undergoing treatment at the intensive care unit of a hospital. The attack on Ms Begum was preceded by the death of sarpanch Habibullah Mir in Sopore who was shot by militants outside his house on Friday.
"They (militants) came and knocked on the window... asked my mother and father to come out...She has been elected by the people. We don't know why she was attacked," said Ms Begum's son, Naseer Ahmed.
The latest attacks have created a fear psychosis among panchayat members, who are accusing the state government of not taking adequate measures to protect them. Last year, several panchayat members were targeted by militants in the state, triggering resignations from other panchayat members who apprehended threats to their lives.
Worried by the fresh wave of attacks, Chief Minister Omar Abdullah today conducted a review of the security situation in the state. While the government has already ruled out individual protection to panchayat members, security has been beefed up in areas like Sopore which have been vulnerable to militant attacks.
"Recently, in the same area, there was an encounter in which 10 Lashkar militants were killed. So, it's not that security forces or J&K Police are not concerned. We are trying our best to reduce the level militants in that area," SM Sahai, Inspector General of Police, J&K said.
Less than two years ago, panchayat elections were held in Jammu and Kashmir after a gap of 34 years. The historic polls, which witnessed massive public participation, saw 34,000 panchayat members being elected. But, the euphoria proved short-lived after four panchayat members were killed and four others were injured last year in attacks by militants.