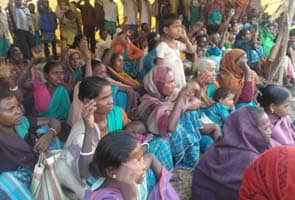 Pakud, Jharkhand:
An ongoing agitation at one of Jharkhand's largest mines run by Panem Coal Mines Limited has put a full-stop on all work at the site for the last 20 days. Uncertainty hangs over the project, with locals vowing not to let a single coal-laden truck leave the mines until the displaced families are rehabilitated.
Panem is a joint venture company between the Punjab State Electricity Board and a Kolkata-based private company. Its mine in the state's remote Pakur district has about 562 million tonnes of coal reserves. The company has been allowed to do open-mining for 44 years.
Locals allege that Panem went back on an agreement it signed in 2006 that it will take time-bound measures to improve the lives of Santhal tribals, who were displaced by the project.
Father Tom Kavala and Anil Murmu of the Rajmahal Pahar Bachao Samiti, an outfit fighting for the rights of the displaced, say people neither got adequate compensation nor was proper infrastructure created at the site where they were rehabilitated.
Panem officials refused to meet on camera but claimed the company had fulfilled 80 per cent of its responsibilities.
The situation on the ground, however, appears to be different. NDTV visited an under-construction 50-bed hospital, where even the building is not ready. The hospital was supposed to start running in 2007.
At the Kataldih village built by Panem for the displaced, Motilal Soren, a resident, tells us not to get carried away by the concrete homes built for them. "There is no water, no bathrooms in these homes. There is no school. They made me a night guard and want me to scare away Maoists. I get paid Rs 3500 a month. Is this fair?" he asks.
The agitation has taken a political turn. For the last 20 days, former chief minister Babulal Marandi of the Jharkhand Vikas Party and Stephen Marandi of the Congress have remained camped at the site. They are refusing to leave until Panem's managing director pays a visit.
The area is a stronghold of the Jharkhand Mukti Morcha, which rules Jharkhand in an alliance with the Bharatiya Janata Party (BJP).
Mr Marandi says the BJP-JMM government did not help the locals, forcing them to launch the agitation.
For now, neither Panem nor the protesters are willing to budge from their stand, throwing work at the mine, which meets 60 per cent of Punjab's daily coal requirements, into uncertainty.